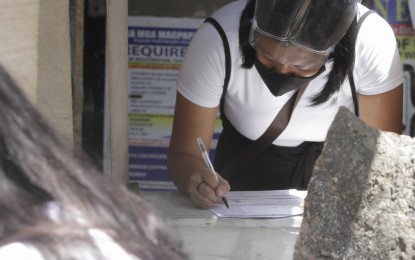 MANILA – A committee in the House of Representatives on Thursday adopted two resolutions urging the Commission on Elections (Comelec) to extend the deadline for voter registration from Sept. 30 to Oct. 31.
During its online hearing, the House Committee on Suffrage and Electoral Reforms adopted House Resolutions 2128 and 2139, which call on the Comelec to extend the voter registration for the 2022 polls to deter massive voter disenfranchisement amid the coronavirus pandemic.
"Comelec could not have anticipated the adverse impact of the pandemic on voter registration and must make the necessary adjustments to allow more unregistered potential voters to register," House Resolution 2139 read.
The resolution noted that with the five-and-a-half-month suspension of voter registration across the country, as well as the month-long suspensions in areas under the enhanced community quarantine (ECQ) and modified ECQ (MECQ), Comelec has the "prerogative" to set the deadline of voter registration on a later date but before Jan. 9, 2022, taking into consideration the public health emergency.
"While it is also important for Comelec to have enough time to prepare the final list of voters, which is a prerequisite for the preparation and completion of the Project of Precincts (POP), a one-month extension will not unduly hamper or delay Comelec's preparation of the POP," it said.
It also cited instances wherein Comelec set deadlines that are on or beyond Oct. 31 of the year before the elections.
On Wednesday, the House adopted House Resolution 2168 urging Comelec to establish additional satellite registration centers nationwide and overseas.
House Resolution 2168 stressed the need to increase the capacity of the Comelec to accommodate registrants by increasing the number of registration centers nationwide and overseas.
The lower chamber also enjoined the citizenry with a sense of urgency, especially the youth and first-time voters, to register as soon as possible, and to remind them about the importance of exercising their right to vote.
Eric Alvia, secretary general of the National Movement for Free Elections (Namfrel), has earlier supported the call to extend the voter registration deadline for the 2022 polls in areas under ECQ and MECQ.
Alvia it would be "ideal" to extend the registration because many potential voters have yet to register.
However, the Comelec had earlier thumbed down such proposals to extend beyond the Sept. 30 deadline saying it would affect preparations for the May 2022 polls. (PNA)