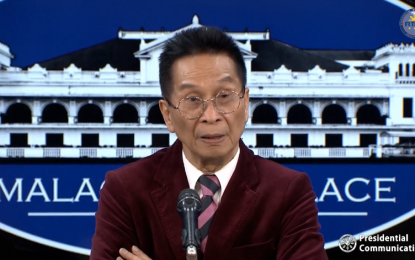 MANILA – President Rodrigo Duterte's administration has created many infrastructure projects under its ambitious "Build, Build, Build" infrastructure program, Chief Presidential Legal Counsel Salvador Panelo said on Saturday.
This, after critics have slammed the administration for allegedly being credit-grabber by supposedly bragging about some of the infrastructure projects introduced by the Aquino government.
During his commentary show Counterpoint, Panelo said the Duterte government's duty is to continue the infrastructure projects that the past administration failed to finish.
"Maraming sinimulan ang administrasyong nakaraan na nabinbin, itinapos ng Presidente Duterte at marami pang nilikhang bago (The past administration has introduced many infrastructure projects but these remain pending even after its term, that's why President Duterte decided to finish these and also created another infrastructure projects)," Panelo said.
Some of the big-ticket projects initiated by the Duterte government include the Bataan-Cavite Interlink Bridge, Central Luzon Link Expressway, and the Subic Freeport Expressway, he said.
Panelo expressed dismay that critics continue to find fault with the Duterte government rather than praise it for its accomplishments.
"Kaya inis sila dito sa programa natin kasi itong programa natin, ibinabahagi sa inyo ang lahat ng accomplishments ng administrasyong Duterte (They hate the program because we are citing the Duterte government's accomplishments)," he said. "Sinisiraan tayo. Meron tayong dapat platform na dapat maibahagi, maiwasto ang mga kasinungalingan ng mga iyan (They are trying to vilify us. We need a platform to refute their lies)."
On Thursday, Duterte said he would not crow about his administration's accomplishments because his only job is to "mention what were the projects completed without necessarily attributing the miracle" to him.
To date, around 212 airport projects, 446 seaport projects, 10,376 flood mitigation structures, 26,494 kilometers of road, and 5,555 bridges have already been completed under the "Build, Build, Build" program.
A total of 102 airport projects, 117 seaport projects, 1,090.30 kilometers of railway, 2,587 flood mitigation structures, 2,515 kilometers of road, and 1,020 bridges are currently under construction.
Around 29 infrastructure projects are seen to be completed by 2021 and 2022, while 79 projects are expected to be completed by 2023 onwards.
In 2020, infrastructure disbursements amounted to PHP869.5 billion, which is equivalent to 4.8 percent of the gross domestic product, despite construction delays due to the coronavirus disease 2019 pandemic. (PNA)