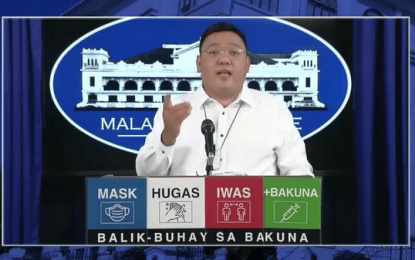 MANILA – Malacañang on Monday downplayed a report which showed that 94 percent of drug war victims support the findings of former International Criminal Court (ICC) prosecutor Fatou Bensouda that the drug war and its perpetrators should be investigated for alleged crimes against humanity.
This, after the Public Redacted Registry Report on Victims' Representations, which indicated that the victims want the ICC prosecutor to investigate the crimes committed in the context of the war on drugs, was submitted to the ICC Trial Chamber on Aug. 27.
"We consider the Public Redacted Registry Report on Victims' Representation submitted to the ICC as more of the opinion of victims wanting the ICC probe rather than erosion of support of the Filipino people," Presidential Spokesperson Harry Roque said in a press statement.
Roque pointed out that Duterte is a democratically-elected President who commands the overwhelming support of the people.
"An independent local survey shows that 88 percent of Filipinos backed President Duterte's campaign against illegal drugs. It is just unfortunate that the Office of the Prosecutor has been used by his ardent critics and detractors as a political tool," he added.
He also reiterated that the Philippines' withdrawal from the Rome Statute gives the country no obligation to cooperate with the ICC, including the opening of its preliminary examination.
The Philippines withdrew from the Rome Statute, which established the ICC, in March 2019.
Roque, however, said this does not mean that the alleged drug war victims cannot seek redress.
"The full gamut of the legal remedies under our domestic laws is and always will be available to them," he said.
Early this month, Duterte said it was the Filipino nation, and not him or his family, who benefited from the drug war.
He said even if the critics' allegations of human rights violations linked to the drug war were true, Filipinos were still able to reap from its gains.
Last June, Bensouda sought authorization from the ICC's pre-trial chamber to allow the conduct of an investigation into the alleged crime against humanity in the Duterte administration's crackdown on illegal drugs.
Bensouda said there is a "reasonable" basis to believe that "the crime against humanity of murder was committed from at least 1 July 2016 to 16 March 2019 in the context of the Philippine government's war on drug's campaign."
According to the Public Redacted Registry Report on Victims' Representations, the victims and their representations showed "overwhelming" support for the request for an investigation.
The report quoted victims and their representations as saying that they will not seek justice without the ICC probe, and that the "prospect of an ICC investigation has rekindled their hopes of achieving justice and surfacing the truth." (PNA)