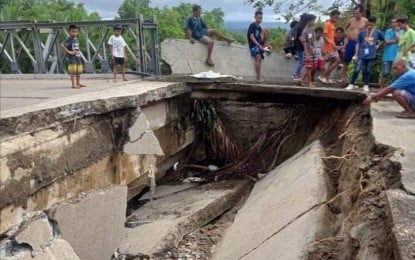 SAN JOSE DE BUENAVISTA, Antique – The approach of Sumakwel Bridge in Barangay Malandog, Hamtic town collapsed on Tuesday due to scouring when Severe Tropical Storm (STS) Paeng hit last year.
Antique Provincial Engineer Inocencio Dajao, in an interview Wednesday, said the approach of the bridge finally gave way, resulting in a three-meter wide and two- to three-meter deep gap,  because of the softening of the soil as an effect of the bad weather.
The structure that linked Sitio Sumakwel to the village proper was built by the provincial engineering office sometime in 2001 with funding from the Department of the Interior and Local Government.
"We already noticed some damage on the approach of the bridge right after STS Paeng, but then it is the barangay that is in charge of the maintenance and repair of the structure," Dajao said.
He said the bridge is along the Bukbok River where children in the barangay usually swim and use the bridge panel as a diving board.
The bridge has become rusty due to the dripping water which could have aggravated its condition.
"I have recommended to the barangay captain of Malandog to temporarily prevent four-wheel drive vehicles even people living across the bridge who use it because of the danger," Dajao said.
He also asked the village official to temporarily build a bridge that the residents in Sitio Sumakwel could use to reach Malandog village. (PNA)