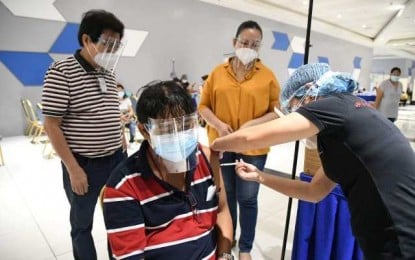 BACOLOD CITY – All residents of this city aged 18 and above are now qualified to avail of the coronavirus disease 2019 (Covid-19) vaccine after the city government opened the vaccination rollout to all priority sectors starting this week.
Em Ang, executive director of the Emergency Operations Center Task Force (EOC-TF) and coordinator of the Covid-19 Vaccination Council (CoVaC) said on Wednesday this was decided after Bacolod recorded a high death rate in September.
"Everyone is now a top priority for vaccination. This is an ongoing risk assessment. If you are in a crowded gathering, potentially with unvaccinated people, you put your mask on and keep social distancing. If you are unvaccinated and eligible for the vaccine, the best thing you can do is to get vaccinated," Ang said in a statement.
Last month, records showed that of the total 168 deaths, 140 were unvaccinated.
Initially, the city government has been administering the vaccines to frontline healthcare workers (A1); senior citizens (A2); adults with comorbidities (A3); front-line personnel in essential sectors, including uniformed personnel, (A4); and indigent population (A5).
With the rollout now open to the general public, those under Group B, who are other frontline workers and special populations as well as Group C, the remaining population, can now be vaccinated as well.
For easier access to Covid-19 vaccines, the city has opened the vaccination sites in two shopping malls -- SM City Bacolod (SMX Convention Center) and Ayala Malls Capitol Central -- or seven days straight from October 11 to 17.
"Both mall-based vaccination centers will no longer have days off this week. We have to vaccinate every qualified Bacolodnon, who is willing to get vaccinated," Ang said, adding that through this, the city government aims to achieve herd immunity or mass vaccination to ensure population protection against Covid-19.
In Bacolod, the goal is to vaccinate 68 percent of its total population of 624,987 or a target of 424,992 individuals.
As of October 9, some 209,382 Bacolod residents have already availed of Covid-19 vaccines, of which 148,464 individuals are fully vaccinated. (PNA)