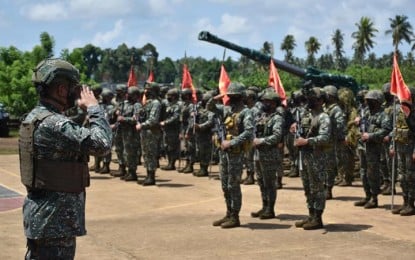 ZAMBOANGA CITY – The Armed Forces of the Philippines (AFP) has repositioned some of its forces to strengthen border control and external defense operations in different parts of the country.
This, as after more than six years of deployment and service to combat terrorism in Sulu, the 4th Marine Brigade (4MBde) and the Marine Battalion Landing Team-8 (MBLT-8) were pulled out from the Western Mindanao Command's (Westmincom) joint area of operations.
They were deployed to address the security concerns and strengthen border control and external defense operations in the northern part of the country under the jurisdiction of the North Luzon Command (NolCom).
Meanwhile, Lt. Gen. Alfredo Rosario Jr., Westmincom chief, said in a statement Saturday the MBLT-7 is set to augment the troops of either the Joint Task Force Tawi-Tawi or Joint Task Force Central, two of Westmincom's field operating commands.
Rosario led a send-off ceremony that was accorded to the 4MBde, MBLT-7, and MBLT-8 Friday at the 4MBde headquarters in Barangay Tandu-Bato, Luuk, Sulu.
He presented the Command Plaque to the 4MBde and MBLT8 in recognition of their valuable and revered achievement that contributed to the accomplishment of the overall mission of the command.
The Naval Forces Western Mindanao (NFWM) also presented the Plaque de Merito to the marine units. Deserving officers and personnel were also recognized during the event.
Rosario commended the invaluable contribution of 4MBde to the growing peace and development in Sulu.
"For decades, the province of Sulu or "Lupah Sug", a cradle of distinct cultural heritage and the home of the "Tausugs" had been battled and scarred by political and ideological differences and terrorism. But with the government efforts particularly the Armed Forces of the Philippines and with the unwavering support of the Tausugs, now, Lupah Sug is relatively peaceful and its progress is very evident in its surging economic improvement, including its booming tourism industry," Rosario said.
The 4MBde or previously known as the Philippine Marine Ready Force, before it became a probationary marine brigade in June 2019, has been assigned in Sulu since September 2016 to address the growing concerns over the influence and atrocities by the Abu Sayyaf Group.
Rosario said the 4MBde has been a beacon of professional soldiers in serving Sulu, particularly the island municipalities of the 2nd district.
He noted that the establishment of a military park in Luuk, one of its tangible accomplishments, has symbolized the synergy between the military, local government units, and the community. (PNA)