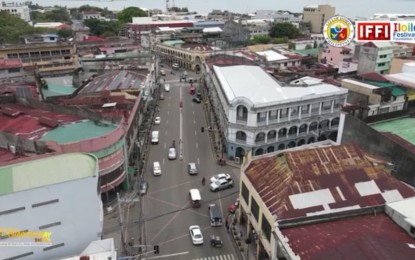 ILOILO CITY – A virtual ceremony on Wednesday evening highlighted the 84th-anniversary celebration of Iloilo City as a charter city with Mayor Jerry P. Treñas calling on the people to "remain positive, determined, and resilient".
Treñas in his message said amid the threat of the pandemic, this year's celebration is a reminder of the three essential virtues innate in every Ilonggo – "katahum (beauty), kapisan (hardwork and determination), and kabakod (strength)".
"Having a positive outlook and seeing the beauty in every critical situation has become our only choice. This positive outlook has then stemmed into our willingness to bond together to shoulder the responsibility of our coming Covid-19," he said.
He recognized every Ilonggo for playing their role, especially medical front-liners who endured wearing personal protective equipment (PPE) just to see people survive.
"Today may not be the best time to celebrate but as long as we remain positive, determined and resilient, there will always be a reason to celebrate," he added.
For three straight years, the local government has downscaled the celebration of the charter anniversary.
In 2019, the city was in a state of mourning following the sea tragedy at the Iloilo Strait weeks before the activity killing several of its residents in addition to the concern on the high incidence of dengue fever.
In 2020, the virtual celebration provided a venue for the city government to honor Ilonggos who stood united in the fight against the ongoing pandemic.
This year's celebration with the theme "Celebrating 84 years of A Noble and Resilient City" also offered a three-day online job fair that kicked off on Wednesday.
On Aug. 27 an online cultural presentation dubbed Ambahanon and Ilonggo Concert will be hosted by the Festive Walk Iloilo while on Aug. 31 there will be a whole day presentation titled "Excavating the Hidden Stories of Iloilo City".
This year's celebration was presented by the Iloilo Festivals Foundation Inc. in partnership with the city government.
The Commonwealth Act 158 signed by President Manuel Luis Quezon on August 25, 1937 declared Iloilo City as a chartered city which then signaled its development. (PNA)