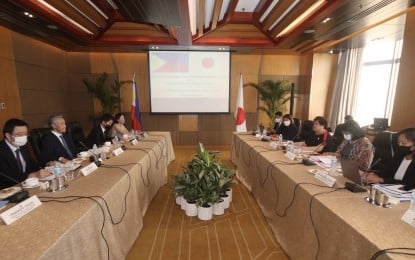 MANILA – Space and energy security are among the emerging areas of cooperation identified in the recent Philippine-Japan Vice Ministerial Strategic Dialogue (VMSD).
The meeting, held in Manila on Sept. 7, was led by Japan Ministry of Foreign Affairs Senior Deputy Minister for Foreign Affairs Shigeo Yamada and Foreign Affairs Undersecretary Ma. Theresa Lazaro, who both reaffirmed commitment to further deepen the two nations' political and security coordination.
"The two countries concurred on continuing to work together to further strengthen the strategic partnership between the two countries and make concrete progress under the Marcos administration," the Japanese Embassy in Manila said Thursday.
The delegations exchanged views on energy security, space, food security, cybersecurity, and health, "in a bid to make the relations more responsive to the challenges of the ever-evolving security environment".
In June 2021, Tokyo and Manila signed a memorandum of cooperation that would provide a framework for possible partnerships in satellite development and promotion of the space industry.
On energy, no less than Japanese Foreign Minister Yoshimasa Hayashi in August 2022 expressed Tokyo's interest to increase engagements with Manila on transitioning to renewables.
Aside from new and emerging areas of cooperation, the VMSD reaffirmed the continuation of projects on maritime domain awareness, improving maritime law enforcement capability, and building capacity through various training programs.
The Philippine side also acknowledged Japan's contribution to the country's infrastructure development, and to Mindanao through various socio-economic programs.
"These are key to ensuring that (the Philippines), particularly Mindanao, contributes to the overall peace and stability in the region by building resilience against economic recession and security challenges," the DFA said in a separate statement.
The delegations, citing the "rocket start" of bilateral relations under the new administrations in the Philippines and Japan, agreed to use the momentum in bringing the two nations' strategic partnership to "new heights".
The situation in the East and the South China Sea, the Ukraine war, North Korea, the Myanmar crisis, and issues on nuclear weapons were also covered in the meeting.
"The two sides affirmed the necessity of close regional and international cooperation if the region is to benefit from the post-pandemic re-opening of economies," the DFA said.
Among others, Japan said it continues to support the Association of Southeast Asian Nations (Asean) processes and Asean centrality, as both countries prepare for the 50th Anniversary of Asean-Japan Dialogue Relations in 2023.
This is the 5th VMSD between the Philippines and Japan, with the last meeting held in Japan on June 14, 2018. (PNA)