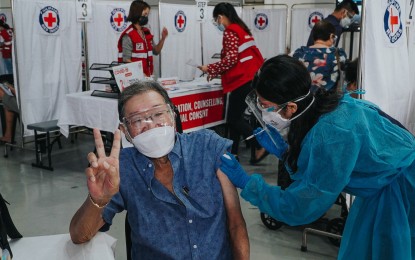 MANILA – As active Covid-19 cases exceeded 100,000 on Monday, the Philippine Red Cross (PRC) reminded the public to take extra measures.
After the hypertransmissible Delta variant, the Department of Health has detected a case of the new Lambda variant, which has been confirmed in more than 20 countries.
The first Lambda case was a 35-year-old-female who tested positive in July. She has since recovered.
The World Health Organization has not yet classified the Lambda as a variant of concern.
PRC chair Senator Richard Gordon again reminded the public to practice protective measures at all times and get vaccinated.
"Always wear a mask. I recommend that you double mask especially when you are in crowded areas, observe proper social distancing, wash and disinfect your hands regularly, and stay at home as much as possible," he said in a news release on Monday.
Gordon emphasized that getting vaccinated is still the way to reach population protection.
"Vaccines work and vaccines continue to save lives every day. The best way to protect yourselves, your loved ones, and your community is by getting vaccinated," he said.
Interested vaccinees may call PRC hotline 1158 for an appointment at Bakuna Centers and Bakuna Buses. (PR)