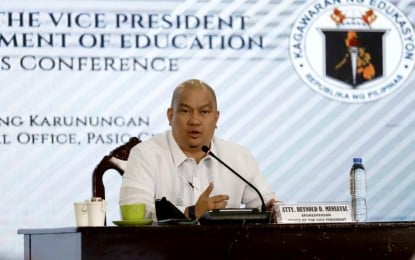 MANILA – The Office of the Vice President (OVP) defended Thursday its proposed PHP2.92 billion budget for next year, which primarily covers basic social services nationwide.
In a press conference, OVP Spokesperson Reynold Munsayac said this is part of the priority agenda of the OVP under good governance.
"'Yung bulto po talaga ng OVP budget papasok po talaga doon sa mga basic social services na prino-provide natin ngayon. 'Yung under sa financial subsidy nandiyan po, 'yun ating medical assistance, burial assistance, nandiyan din po, 'yung ating libreng sakay. 'Yung livelihood programs na Magnegosyo ta dai, tsaka Peace 911 (The bulk of the OVP budget goes to the basic social services that we are providing now, under financial subsidy, medical assistance, burial assistance, free rides, and livelihood programs Magnegosyo ta dai and Peace 911)," he said.
Munsayac said the budget under the proposed confidential fund would be utilized "using parameters set by the DBM (Department of Budget and Management), the COA (Commission on Audit) in their joint circular."
He said the allocation would also help maintain peace and order in the country.
"Malinaw na malinaw naman kung saan lang pwedeng gamitin ang confidential fund (The allowed allocation for the confidential fund is crystal clear), of course, the position and mandate of the Vice President allow her to utilize those kinds of funds regarding peace and order and national security," Munsayac said.
The OVP also vowed to maintain the proper use of funds, as well as transparency for its future transactions and programs.
Basic services
Munsayac, meanwhile, said the OVP has processed more than PHP73 million in cash aid through its basic services program nationwide.
"For public assistance programs, the Office of the Vice President has already processed 5,645 applications for medical and burial assistance, amounting to PHP73,178,564.12 as of August 26, 2022," he said.
More than PHP36 million of this amount was already released to 3,089 cash aid beneficiaries.
Moreover, the OVP is working closely with the Department of Health (DOH) to provide easier access to medical assistance to indigent patients, he said.
"The Office of the Vice President is also now coordinating with the Department of Health for the medical assistance to the indigent patients' program, and they have identified 31 public hospitals where the OVP and DOH can provide funds for those who will not be able to completely pay their hospital bills," he said.
Besides medical and burial aid, the OVP's Libreng Sakay (free ride) program has also provided transportation rides to 32,905 passengers. (PNA)