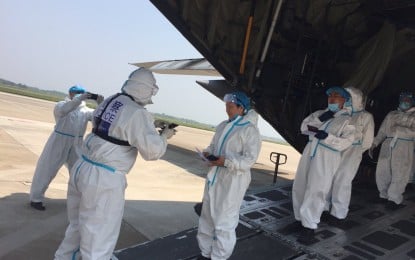 MANILA – Members of the Philippine Red Cross (PRC) fondly recalled the affable pilot who flew in medical supplies from Changsha Airport in Hunan, China last year for the country's Covid-19 efforts.
Maj. Michael Vincent Benolerao was one of 49 fatalities of the C-130 crash in Patikul, Sulu on Sunday.
The 38-year-old Iligan City native also accompanied PRC volunteers in the April 28, 2020 C-130 flight that flew home laboratory machines, swabs, reagents, and consumables for the PRC molecular laboratory.
"We mourn our fallen hero," said Senator Richard Gordon, chairman and chief executive officer of PRC.
"When we needed his service, he was quick to respond. We lost one of our own in our fight against this deadly disease. Our deepest sympathies to his family, his colleagues, and the Air Force, and our eternal gratitude to a true front-liner," he added.
Benolerao graduated from the Mindanao State University-Iligan Institute of Technology Integrated Developmental School in 2000 and from the Philippine Military Academy in 2006.
He was planning to retire in 2022 to marry his fiancé in Canada where his family now lives. (PR)