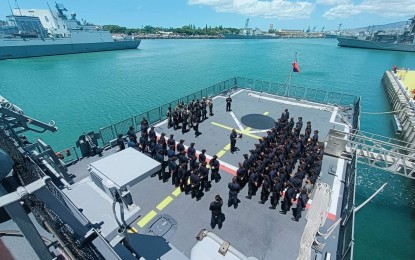 MANILA – The Philippine Navy (PN) on Friday announced that the sea phase of this year's "Rim of the Pacific" (RIMPAC) exercise started on July 12 with missile frigate BRP Antonio Luna (FF-151) now underway along with other participating warships.
"PN frigate BRP Antonio Luna, carrying Naval Task Group 80.5 led by Captain Charles Merric Villanueva, gets underway on July 12, 2022 to join 37 other ships, four submarines, 170 aircraft, and more than 25,000 personnel in the conduct of the at-sea phase training of the ongoing RIMPAC Exercise 2022," Navy spokesperson Commander Benjo Negranza said in a statement.
This year's RIMPAC is scheduled from June 29 to August 4.
Filipino sailors began the first day of the at-sea phase with serialized training which included tactical maneuvers; gunnery exercises (GUNNEX), and raid exercises (RAIDEX).
RIMPAC is the world's premier and largest joint and combined naval exercise hosted by the US Navy's Pacific Fleet and Third Fleet, held biennially in and around Hawaii.
This year marks the third time that the PN deployed a contingent to the naval exercise which allows Filipino sailors to exchange best practices with and learn from the best navies in the world.
This participation trumpets the PN's commitment to promoting multilateral cooperation leading to the strengthening of relationships and cooperation among regional and extra-regional navies.
It is also a great avenue to train participating commanders, staff and forces in the planning and execution of combined naval operations. (PNA)