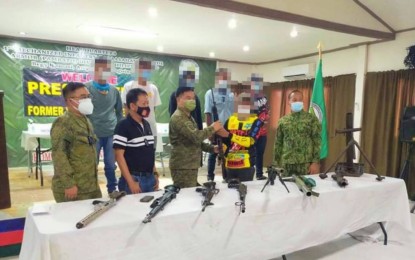 CAMP SIONGCO, Maguindanao – Six more members of the outlawed Bangsamoro Islamic Freedom Fighters (BIFF) yielded to the military in this province on Wednesday afternoon.
The latest batch of surrenderers came barely a day after10 of their comrades also gave up to the Army's 1st Mechanized Brigade (1MBde) headquarters in Barangay Kamasi of Ampatuan town on Tuesday.
In an interview, Lt. Col. Charlie Banaag, Army's 6th Infantry Battalion commander, said on Thursday he presented the six surrenderers to Col. Pedro Balisi, the 1MBde commander.
He identified the six surrenderers as Aratok Silongan, Aladin Kuntong, Haime Guinaid, Ton-Ton Guinaid, Pagal Sape, and Datu Ali Kalagyo, all members of the BIFF-Bungos faction in the so-called SPMS box.
The SPMS-box is a military term referring to the contiguous towns of Shariff Aguak, Pagatin (Datu Saudi Ampatuan town), Mamasapano, and Shariff Saydona Mustapha, where the BIFF operates.
"The succession of surrender by the BIFF extremists simply means the security landscape in the province is changing for the better," Banaag told reporters here.
The group also turned in nine assorted war materiel comprising one mortar launching pad, three M16 rifles, one M1 Garand rifle, one Springfield rifle, one rocket-propelled grenade launcher, one homemade .50-caliber Barrett sniper rifle, and one shoulder-fired M79 grenade launcher.
"We are fed up with our situation and with the lies to us by our BIFF commanders. We are already tired and we want to live a normal life with our families," Silongan said.
Balisi, for his part, thanked Mayor Solaiman M. Sandigan of Datu Salibo, Maguindanao; and to Datu Renz Tukuran, a former Moro Islamic Liberation Front commander for facilitating the voluntary surrender of the six BIFF extremists.
"What just transpired is a clear manifestation that the partnership of the security forces, local government units, and the members of the community is crucial in attaining the long-aspired peace in Central Mindanao," Balisi said in a statement.
With the capitulation of the six, the total number of BIFF surrenderers increased to 136 since January this year. (PNA)