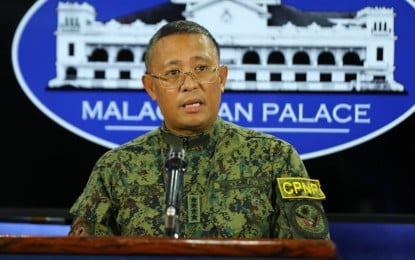 MANILA – The Philippine National Police (PNP) has deployed disaster response units to Northern Luzon areas as Super Typhoon Henry (international name Hinnamnor) was spotted closest to the Luzon mainland past midnight on Wednesday.
In a statement, PNP chief Gen. Rodolfo Azurin Jr. said police disaster response units, personnel and equipment were immediately deployed to the Ilocos and Cagayan Valley regions and some parts of Cordillera for immediate action for possible emergencies.
At the same time, government relief resources were prepositioned within the proximity of designated evacuation centers for possible relief operations in areas threatened by the effects of the weather disturbance.
Meanwhile, the PNP headquarters in Camp Crame, Quezon City has activated its Disaster Incident Management Task Group (DIMTG), an updated and enhanced plan of action on disaster preparedness and response management in support of other concerned agencies.
Azurin said the DIMTG supports the government's disaster risk reduction and management efforts in accordance with the PNP Critical Incident Management Operational Procedures (CIMOP).
He said the DIMTG has alerted PNP disaster response-capable units such as Special Action Force (SAF), Maritime Group (MG), Highway Patrol Group (HPG), and Police Community Affairs and Development Group (PCADG).
At the same time, Regional Mobile Force Battalions (RMFB) and Provincial and City Mobile Force Companies (PMFC) were instructed to coordinate closely with local disaster risk reduction and management offices (DRRMOs) and local government units for possible enforcement of forced evacuation in areas threatened by storm surge, flooding, and landslide.
Likewise, regional, provincial and city/municipal PNP units in affected areas were instructed to keep all national highways and major thoroughfares clear of obstructions and debris to allow unhampered passage of troops, rescue units, emergency vehicles and relief supplies, Azurin said.
The Philippine Atmospheric, Geophysical and Astronomical Services Administration (PAGASA) said "Henry" will further enhance the prevailing southwest monsoon which may bring rains over the western section of Luzon beginning Friday.
Elsewhere in Luzon, Police Regional Offices in Central Luzon, Calabarzon, Mimaropa and Metro Manila were also alerted for possible disaster response operations in perennial geo-hazard areas in these regions in anticipation of torrential monsoon rains induced by the super typhoon.
"On top of the PNP mandate to enforce the law is the duty to perform public safety operations to save lives during this season when normal community activities are momentarily interrupted by extreme weather conditions. This is a most opportune time for the PNP to link arms with local governments, state agencies, and private organizations to enliven the Bayanihan spirit in the face of calamity," Azurin said. (PNA)