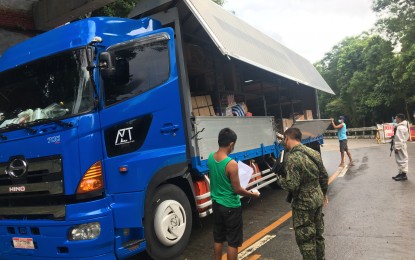 LAOAG CITY – The Ilocos Norte government has warned cargo operators to strictly abide by the prescribed guidelines set in a memorandum of agreement they signed with the provincial government otherwise face being banned from entering the province.
Atty. Althea Nicolette Pilar, project head of the Metro Ilocos Norte Council (MINC), reiterated this on Thursday following travel violations committed by some cargo operators.
In August alone, the MINC reported 10 cargoes were apprehended for violating the province's coronavirus disease 2019 (Covid-19) protocols by smuggling personnel or transporting illegal and illicit products into the province.
Pilar underscored "the MINC registration and MINC identification cards are mere privileges granted to such firms by the provincial government and these may be revoked when the public interest, public health, and public safety is at risk."
Based on the updated travel guidelines for cargo, all cargo operators entering the province are required to register at the MINC office which can be done online or on-site.
In the event that a cargo is not registered with MINC, the cargo truck driver and its helper/s shall submit themselves to antigen testing every time they enter the province.
MINC-registered cargo vehicles are issued identification cards and the employees must show a negative RT-PCR (reverse transcription-polymerase chain reaction) test or antigen test every week for those who travel to high risk areas under enhanced community quarantine, modified enhanced community quarantine, and general community quarantine.
For those who travel to areas under modified general community quarantine, the negative RT PCR or antigen test is valid for two weeks.
On the other hand, those who wish to register physically or on-site, a memorandum of understanding shall be signed between the manager or owner of the cargo truck and the provincial government of Ilocos Norte. Documents needed include a valid identification card, list of cargo vehicles being used in deliveries with plate numbers including the names of drivers and employees traveling to Ilocos Norte for a specific purpose.
As of September 1, there are 3,390 Covid-19 active cases in the province out of a total 15,479 infections since the pandemic started last year. (PNA)