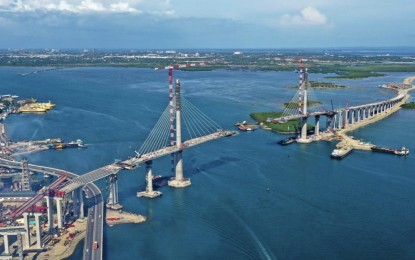 CEBU CITY – The overall engineering, procurement, and construction (EPC) works on the 8.5-kilometer Cebu-Cordova Link Expressway (CCLEX) project are now 70 percent complete, a tollways management company said on Tuesday.
In a statement, the Cebu-Cordova Link Expressway Corp. (CCLEC) said the bridge is expected to be substantially completed by the end of 2021 and open to motorists in the first quarter of 2022.
Allan Alfon, president and general manager of CCLEC, said a recent construction milestone is the completion of the casting of all 446 NU (Nebraska University) girders required for the entire stretch of CCLEX.
These girders, the first produced in the Philippines, serve as the main structural support for the road, he said.
The girders are being installed using the mobile launching gantry at the Cebu South Coastal Road (CSCR) on the ramp and off ramp sections of CCLEX, as well as on the Cebu viaduct, Cordova viaduct, and low-lying bridges on the causeway.
For the main bridge, the construction of the bridge deck and installation of stay cables continues to move forward. Some 152 meters remain before the main span is connected while 36 out of 56 cables are now installed.
At the causeway, backfilling and placement of armor rocks are still ongoing as well as laying of the 20 vent pipes, which are intended to equalize the flow of seawater in the Cordova Channel, Alfon said.
Almost complete are the four low-lying bridges that will serve as access of the Cordova fishermen to their fishing ground.
Also completed in time for the commemoration of the 500 years of Christianity in the Philippines in April 2021 were eight 40-meter-tall crosses and its light fixture on top of the two CCLEX pylons spanning the Mactan Channel.
Likewise finished is the 200-meter permanent pedestrian footbridge that starts near the U-turn slot of the South Road Properties' (SRP) welcome tower. Sidewalks will be provided in the entire stretch of CCLEX.
The CCLEX is a PHP30-billion toll bridge that will link mainland Cebu from the SRP in Cebu City to Mactan island through the municipality of Cordova.
Set to be a new landmark in the country, CCLEX will have two lanes in each direction that will provide a safe, quick and scenic passage to an estimated 50,000 vehicles daily, easing the traffic in the existing Marcelo Fernan Bridge and the Mandaue-Mactan Bridge.
CCLEX has a design speed of 80 kilometers per hour (kph) and a navigational clearance or height of 51 meters so as to allow large vessels to pass underneath the bridge.
"Not only is CCLEX seen to reduce traffic and make traveling more convenient but also spur trade activities and open greater economic opportunities for Cebu and the rest of the Visayas region," Alfon said.
CCLEX is a project of CCLEC in partnership with the local government units of Cebu City and Cordova.
CCLEC is a wholly owned subsidiary of Metro Pacific Tollways Corp., the toll road arm of publicly listed Metro Pacific Investments Corp. (PNA)