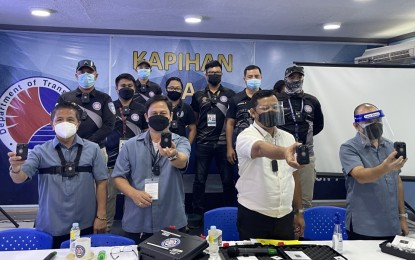 CEBU CITY – The Land Transportation Office (LTO) in Central Visayas on Thursday gave 46 body cameras to its law enforcement officers (LEO) during operations, an official said.
LTO-7 regional director Victor Emmanuel Caindec, along with other officers, presented the body cameras during the turnover ceremony at the agency's Malasakit Service Center here.
Caindec said the LEOs have completed their training to properly operate the devices during their traffic enforcement operations on the national roads in the region.
The server administrator underwent training on the virtual control system of the cameras.
"Whatever data being captured by the body cameras being worn by our enforcers are also available if and when necessary even at our LTO Central office in the soon to be opened Operation Center," Caindec said.
He said LTO enforcers have been wearing body cameras since 2018, but the devices being used are not that many yet and their utilization is not yet institutionalized.
He said the device will serve as protection for the enforcers, adding its office is receiving a lot of complaints or contests on the apprehension.
"They have been instructed not just to utilize their body cameras but also the vehicle dashcam," he said.
Caindec said the central and the regional offices will have access to the server where the data of the body cameras will be kept, adding "the system itself is being managed by LTO".
In the past, the LEOs could "selectively on and off the camera" but Caindec said with the new devices, the personnel will be tasked to turn on their body cameras to document the whole operation.
"If they're on official deployment for a specific operation, they are required to cover the entire operation," he said.
He said each LEO will receive a dedicated kit with the body camera, body straps, and a spare battery that will last for eight hours.
The cameras will also have an offline option where they can record the video, do live video, and have a global positioning system (GPS) for tracking purposes.