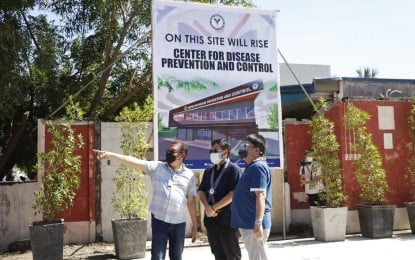 DAGUPAN CITY – A Disease Prevention and Control Research Center will soon rise at the Region 1 Medical Center (R1MC) Bonuan Binloc Annex here following its groundbreaking on Wednesday.
In an interview, Pangasinan fourth district Representative Christopher de Venecia said the PHP20-million project was funded through the support of Deputy Speaker Kristine Singson-Meehan of Ilocos Sur and Speaker Lord Allan Velasco of the House of Representatives.
"This is first of its kind to really augment our healthcare system," he said.
De Venecia said the research center will also serve as a coronavirus disease 2019 (Covid-19) facility once completed by next year.
"Even though there will no longer be Covid-19 in the future, we will still encounter infectious diseases so we really need to prepare for that," he said.
A ribbon-cutting ceremony for the Center for Emerging and Reemerging Diseases building was also held at the area alongside the groundbreaking of the research center.
In a separate interview, R1MC chief Dr. Joseph Roland Mejia said the center for emerging and reemerging diseases will cater to Covid-19 and other infectious diseases patients as it has pressurized rooms to prevent the spread of viruses, while the disease prevention center will be mainly an office for the researchers.
"In the future, we will have problems with emerging and re-emerging diseases and viruses. These things will not go away so these centers will have a great impact especially that R1MC is one of the top 10 performing hospitals in the country," he said.
Meanwhile, de Venecia said he is also continuously lobbying for the completion of the seven-storey building of the R1MC to increase the hospital's bed capacity from 300 to 600.
"We do need to expand the bed capacity in compliance with the law that was passed by my predecessor, former fourth district Representative Gina de Venecia. It has been a long time that the law was not complied with," he said.
He was referring to Republic Act 10614 or An Act Increasing the Bed Capacity of R1MC from 300 to 600, Authorizing the Increase of its Medical Personnel, Upgrading its Services, Facilities and Professional Health Care and Appropriating Funds passed by the 15th Congress in 2012.
"I was told by Secretary Francisco Duque III that there will be funding for it and the facility will be completed by 2024 to 2025. We do not want patients being cured at the hallways or parking lots, which was happening even before the pandemic," de Venecia added.(PNA)