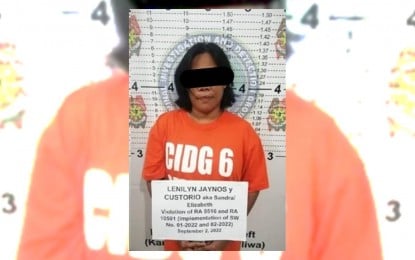 MANILA – Police operatives arrested a female high-value communist personality in Capiz, the Philippine National Police (PNP) reported on Monday.
In a statement, PNP chief Gen. Rodolfo Azurin Jr. said the suspect Lenilyn Jaynos, a non-government organization (NGO) worker, was arrested during the implementation of Oplan Paglalansag Omega" in Roxas City, Capiz at around 11:30 a.m. on Sept. 2.
Jaynos was nabbed during a search warrant operation for violation of Republic Act 10591 (Comprehensive Firearms and Ammunition Regulation Act) and RA 9516 (illegal possession of explosives).
The suspect is tagged as the regional finance officer of Komiteng Rehiyon-Panay. Two of her cohorts escaped arrest and are now subjects of a manhunt operation.
Seized from the suspect were several firearms, ammunition, hand grenade, black sling bag and two identification cards.
"We emphasize that this operation became successful through the cooperation and support of the community who helped us build the nation ensuring the safety of everyone through our KASIMBAYANAN program. This can only be achieved if we actively participate in our quest to curb criminality," Azurin said in a statement. (PNA)