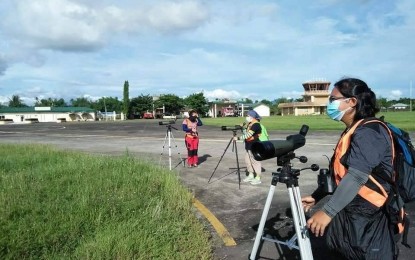 SAN JOSE DE BUENAVISTA, Antique – Birds flying around the Antique Airport in this capital town are disrupting the flight of the Philippine Airlines (PAL), lone air carrier servicing the province.
Kenny Marie Gicaraya, who is the Belison Community Environment and Natural Resources Office (CENRO) chief of the Department of Environment and Natural Resources (DENR), said in an interview on Tuesday that they had received a letter from Antique Airport Manager Juanito Tanchito, Jr. requesting for their assistance on what to do with the birds that are hovering around the airport.
"As a response, we conducted bird counting at the airport last May 21 which was also the International Biodiversity Day," she said.
Throughout the day, they were able to count 247 birds of various species flying at the airport premises, which can distract pilots and pose danger on the flights.
"There were Barred Rail, Oriental Pratincole, Blue Tailed Bee Eater, Red Turtle Dove, Zebra Dove, Eurasian Tree Sparrow, Barred Button Quail, Chestnut munia, and Little Ring Plover," she said.
These birds had been nesting among the trees at the airport premises, which is why they could be seen flying in the area.
"One of the probable solutions that we are recommending is that there will be a 'sound wave' that will be used just before the aircraft landing so to alert the birds to leave the vicinity," she said.
She said that the sound wave had been found effective in other airports that had similar problems before.
"We are still inquiring at the DENR Regional Office 6 (Western Visayas) if they have other recommendations since we cannot also remove the birds' nests as part of conservation, "she said.
She said that the bird species are common and could have been inhabiting the airport premises, which had not been used by commercial flights for almost 10 years, before it was upgraded and reopened on December 16, 2018.
PAL flies two days a week here, every Wednesday and Saturday. (PNA)