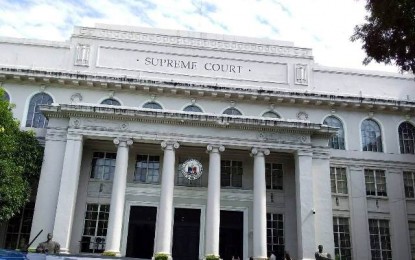 MANILA – The Supreme Court (SC) has ordered the forfeiture of retirement benefits and disqualification from all government positions of a retired records officer of the Court of Appeals (CA) who acted as a conduit in the sale of a fake court decision for PHP10 million.
The SC found retired CA Records Officer II Imelda Posadas guilty of multiple counts of conduct prejudicial to the best interest of the service and of violating graft laws, according to a decision published online on Thursday.
The case started in 2013 when lawyer Ramel Aguinaldo sought the assistance of Dr. Virgilio Rodil for a "contact" in the SC who could help in the pending drugs case of his client, Marco Alejandro.
Rodil, a physician at St. Michael Medical Hospital in Bacoor, Cavite, sought the aid of Posadas who was his patient.
Posadas' 45 years of service "cannot mitigate the effects of her reprehensible conduct", the SC said.
"On the contrary, her long years of service should be considered as an aggravating circumstance since it facilitated the commission of the offense, i.e., use of her connections in the Supreme Court due to her familiarity with the system and other employees in the judiciary," the court said in its resolution.
Posadas' dealing began when she contacted her fellow records officer, Samuel Ancheta, who informed them that the case has been raffled off to then-Associate Justice Martin VIllarama Jr. and that Andrew Corro, one of the court lawyers, agreed to review the case.
Ancheta and Posadas acted as conduits for Rodil and Corro, with the PHP10 million handed in four tranches starting on April 22, 2013.
The first two payments of PHP800,000 for the initial reading and PHP700,000 for review of the case were handed by Rodil to Posadas and Ancheta in April and August 2013.
Corro received the final two payments, also from Rodil -- PHP5 million on Dec. 13, 2013 for the advanced copy of the draft decision of the acquittal and PHP3.5 million on Feb. 21, 2014 for a copy of the acquittal decision bearing the SC logo.
After some time, Rodil called Posadas to notify her that the advanced copy of the decision, which Corro released, was fake and they could no longer locate the lawyer.
Rodil then initiated administrative cases against Corro, Posadas, and Ancheta.
Corro has been disbarred, Ancheta was dismissed from service in February 2020, and Posadas was forced to retire in 2019.
The court dismissed Posadas' claim that she was merely motivated by a sincere desire to help Rodil and that she did not receive any amount or consideration during the transactions.
"The circumstances clearly showed that she had an indispensable involvement in the dealings. If only Posadas did not entertain Dr. Rodil's request to look for a contact in the first place, the transactions could not have materialized," the SC said. "Without her participation, Dr. Rodil could not have easily formed a linkage with Ancheta and Atty. Corro, which in turn could have prevented the case-fixing from happening." (PNA)