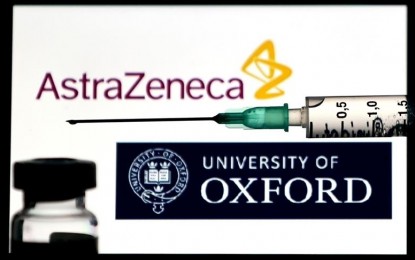 MANILA – The government will receive coronavirus disease 2019 (Covid-19) vaccines donated by Japan and the United States this month, the National Task Force (NTF) Against Covid-19 reported on Tuesday.
NTF chief Secretary Carlito Galvez Jr. said the Japanese government will send one million doses of AstraZeneca vaccines on July 8.
The COVAX Facility also confirmed the delivery of the 3,024,000 doses of the single-shot Janssen vaccines, produced by US pharmaceutical firm Johnson & Johnson, within the first half of the month.
It will be followed by additional 2,028,000 doses of AstraZeneca by mid-July.
All COVAX-donated vaccines and the Janssen jabs will be strictly for priority groups A2 (senior citizens) and A3 (adults with comorbidities) only.
Vaccines procured by the government and private sector, including the Japan-donated vaccines, will be for A2, A3, and A5 (indigents) groups.
Local government units must submit their master lists for the Janssen vaccines, Galvez said.
"We are very thankful to WHO (World Health Organization), COVAX, GAVI (the Vaccine Alliance), the US, and the people of Japan for providing much-needed vaccine doses at this time when most of our procured vaccines are expected to arrive in the middle or late part of the month," Galvez said in a statement.
"These vaccine doses will allow us to keep the momentum of our rollout and significantly accelerate our output especially with the arrival of one-shot vaccine from Johnson & Johnson. Let us be mindful that the donated vaccines from COVAX should be administered based on the priority groups identified by the WHO-SAGE (Strategic Advisory Group of Experts)," he added.
A total of 170,000 doses of Sputnik V, 250,000 doses of Moderna, and 1,170,000 doses of private-sector procured AstraZeneca vaccines may be delivered within the first half of July.
Also arriving this month are 938,340 doses of Pfizer jabs, the first shipment (562,770 doses) of which is scheduled on July 19 and the next batch (375,570 doses) on July 26.
So far, the National Vaccination Operations Center has deployed 14,841,740 doses out the country's total stockpile of 17,455,470 doses.
The government targets to administer at least 5 million doses this month.
"We have to maintain focus in our strategy to achieve population protection, especially in the vulnerable sectors -- the elderly and people with comorbidities -- particularly in the priority areas," Galvez said. (PNA)