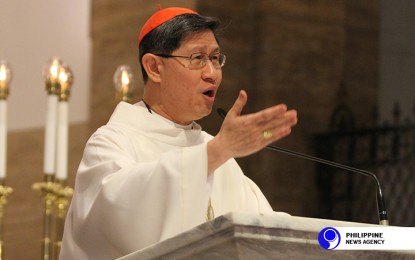 MANILA – Luis Antonio Cardinal Tagle, the Vatican's Prefect of the Congregation for the Evangelization of Peoples, will lead the beatification ceremony of Venerable Pauline Marie Jaricot in Lyon, France scheduled next year.
The Roman Catholic Archdiocese of Manila (RCAM) announced on Thursday that the former archbishop of Manila has been named to lead the Church event to be held on May 22, 2022.
It said the announcement of Jaricot's beatification was made by Gaëtan Boucharlat de Chazotte, secretary general of the Pontifical Mission Societies (PMS) in France.
On the other hand, Fr. Brian Lucas, Catholic Mission national director, welcomed the scheduled beatification, saying that the event will occur during the year marking the 200th anniversary of the foundation of the Society for the Propagation of the Faith.
"As a laywoman committed to supporting the missionary activities of the church, she reminds us that holiness is not confined to those in holy orders or members of religious congregations," he said on the Catholic Mission website.
Jaricot was born in Lyons, France in 1799. She was the founder of the Pontifical Society for the Propagation of Faith and the Association of Living Rosary.
She was declared Venerable by Pope John XXIII on Feb. 25, 1963.
On May 26, 2020, Pope Francis authorized the publication of the decree recognizing the miracle attributed to the intercession of Jaricot.
Beatification is a process guided by the Vatican's Congregation for the Causes of Saints, that begins with an intensive investigation of a deceased person's life, writings, and virtues and, except in the case of martyrs, proof of one miracle worked by God through the intercession of the person.
If the person meets all of the requirements, the Pope gives the person the title "Blessed" and decrees that he or she may be honored or venerated.
Aside from the processes required for beatification and canonization causes, the Congregation for the Causes of Saints is a Vatican delegation that is also responsible for the preservation of relics of holy people. (PNA)