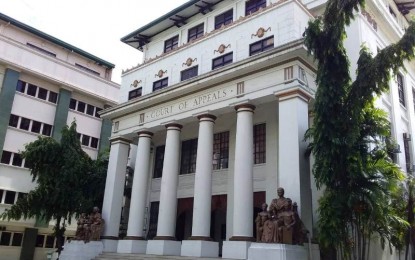 MANILA – The Court of Appeals (CA) allowed the "belated" publication of a petition by a Quezon City landowner after it noted that the court originally handling the case failed to include the requirement in its ruling.
The CA ruled on October 18 that "where there is a defect in the publication of the petition, such defect deprives the court of jurisdiction. And when the court lacks jurisdiction to take cognizance of a case, it lacks authority over the whole case and all its aspects".
The case stemmed from Marison Mendoza's original petition in January 2019 to cancel an encumbrance certificate on a 71-square-meter parcel of land in Sauyo, Tandang Sora, saying she is the registered owner of the property.
The original title was destroyed when fire hit an office of the Registry of Deeds in Quezon City and it was subsequently reconstituted.
No one went after the property within the two-year lien that expired in 1997 as attested by a certification from the Land Registration Authority and which Mendoza submitted to support her petition.
The Solicitor General, however, constested in July 2019 the Quezon City Regional Trial Court's ruling for the cancellation of the encumbrance, an evidence of single ownership that the property has no legal dues or monetary issues, saying Mendoza failed to comply with the publication requirements.
The CA noted though that the RTC did not issue a directive for the publication and thus, no proof of publication of the said notice was submitted as part of the evidence.
"Since the blunder was not entirely the fault of the petitioner, as the RTC should have included in its order an express directive to cause the same to be published, we find it expedient to remand the case to the RTC for the latter to correct the lapse and order the publication of the notice of petition," the CA said as it remanded the case back to the QC RTC Branch 215 for further proceedings.