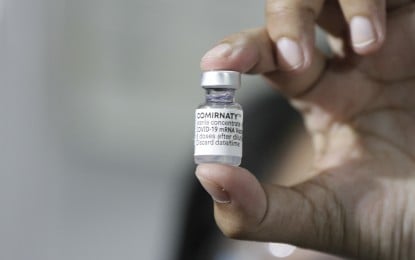 MANILA – The proposal to create a bubble for vaccinated individuals will face legal hurdles and may be premature as vaccines are not readily available for all yet.
Department of Justice Secretary Menardo Guevarra said the suggestion of Presidential Adviser for Entrepreneurship Joey Concepcion is a good one but may be challenged as violative of the equal protection clause by those who have remained unvaccinated but are nonetheless complying with mandatory health protocols.
"I understand that the objective of Mr. Concepcion's proposal to give vaccinated persons greater mobility and access is to boost the revival of certain sectors of the economy," Guevarra told reporters via text message on Tuesday.
However, Guevarra said that "without prejudging the legal issue, the proper time to push for the proposal is when the vaccines have become readily available to anyone anywhere and the majority of the people have been fully vaccinated".
In an interview with a news channel on Aug. 20, Concepcion said his proposed transportation bubble for vaccinated individuals in Metro Manila will protect those who are not yet inoculated against the coronavirus and will result in greater mobility among fully inoculated ones.
He clarified that his proposal is only for the National Capital Region (NCR), which will allow only fully vaccinated people to enter malls, restaurants, spas, and other establishments.
"And why is that so? It's very clear that what we have to protect are the unvaccinated people," Concepcion said in the interview. (PNA)