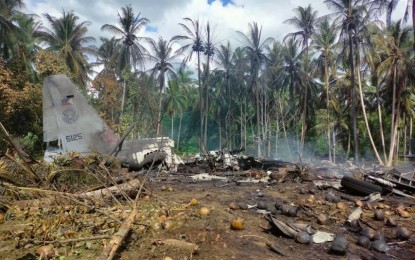 MANILA – Russian President Vladimir Putin sent his condolences to the families and friends of those killed in the C-130 military plane crash in Patikul, Sulu last July 4.
The message was conveyed through a telegram dated July 5 to President Rodrigo Duterte, according to Kremlin's website.
"Dear Mr. President, please accept our deep condolences over the tragic consequences of the crash of a military transport plane on the island of Jolo. I ask you to convey my words of sympathy and support to the families and friends of the victims, as well as wishes for a speedy recovery to all the victims," Putin wrote.
The ill-fated C-130H Hercules plane of the Philippine Air Force crashed in Barangay Bangkal, Patikul, Sulu after it missed the runway when it tried to land at the Jolo Airport.
Of its passengers and crew, the Department of National Defense said 49 soldiers and three civilians died, while 51 were injured.
The military aircraft was carrying 96 troops deployed to combat the terror group Abu Sayyaf on the southern island.
Aside from Russia, several countries also sent their sympathies to the Philippines, including Australia, France, the United States, Canada, China, Israel, and the Netherlands, among others.
In a July 5 statement, Dutch Ambassador to the Philippines Saskia de Lang, said: "I was very sorry upon hearing of the tragic incident last Sunday, 04 July 2021, that took the lives of 43 military personnel and 3 civilians. We share in the grief of the Filipino nation, particularly with the bereaved families of those serving with the Armed Forces of the Philippines, in this difficult time."
"On behalf of the Kingdom of the Netherlands, I offer my deepest sympathies to the Armed Forces, to the family and friends of those deceased; and extend my wishes for the swift recovery of those who were injured," she said.
The Chinese Embassy in Manila also said Beijing's thoughts and prayers are also with the bereaved kin during this time.
"The Chinese Embassy extends its heartfelt sympathy and condolences to the families who lost their beloved ones in the tragic crash of Philippine Air Force flight 5125 in Sulu. Our thoughts and prayers are with you during this difficult time," it said.
Israel's Foreign Ministry on Tuesday said it also stands with the Philippines as it sent its condolences to the Filipino people.
"We send our deepest condolences to the people and government of the Philippines on the tragic loss of life in the Air Force plane crash in Sulu province. Israel stands with the Philippines in these difficult times," it said. (PNA)