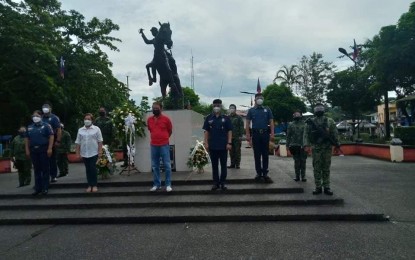 SAN JOSE DE BUENAVISTA, Antique – A webinar will be held here on Aug. 30 which will highlight the heroism of Antiqueños during the celebration of National Heroes Day.
Board member Errol Santillan, chairman of the Committee on History and Cultural Heritage of the Provincial Board, said Thursday two historians will share their researches on the lives of General Leandro Fullon and his contemporaries, Lt. Ruperto Abellon and General Valentin Grasparil.
"We have invited former Iloilo vice governor Demetrio Sonza and Erwin Bonifacio to talk about the lives of our Antique heroes in a webinar," he said.
Santillan said Bonifacio is a member of the Capiz Historical and Cultural Society and also works for the Department of the Interior and Local Government Western Visayas regional office as Local Government Operations Officer III.
Sonza will talk about his research and writing on Fullon and Abellon while Bonifacio will discuss his research work about Grasparil.
Fullon, who hailed from the municipality of Hamtic, joined the Katipunan and helped organize the revolutionary government against the Spaniards. He became the first governor of Antique in 1901.
Abellon, who had less account, was known to have fought side by side with Fullon against the Spanish invaders.
Grasparil was a former commander of the 66th Infantry Regiment that liberated the provinces of Antique, Aklan, and Capiz from the Japanese intruders during World War II.
His regiment drove the Japanese forces out of Jaro and Balantang in Iloilo City.
Santillan said they would like the younger generation to know the important contributions to their home province and in Panay island.
"Many people nowadays do not really know who their local heroes are," he said.
The webinar, which will be attended by teachers and students of the Department of Education, University of Antique, and St. Anthony's College, is expected to raise their awareness about their local history. (PNA)