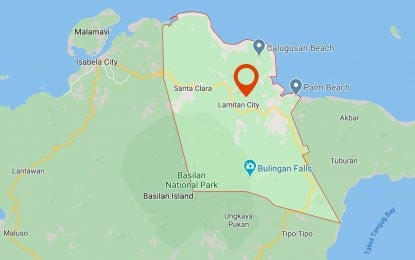 ZAMBOANGA CITY – Two members of the Abu Sayyaf Group (ASG) have surrendered with the support of the Moro Islamic Liberation Front (MILF) in Basilan province, military officials announced Tuesday.
Brig. Gen. Domingo Gobway, Joint Task Force (JTF)-Basilan commander, said the good rapport between the military and the MILF in Basilan led to the surrender of ASG members Jaid Balatong, 40; and Abdul Munib, 25.
"The MILF is actively supporting the military's campaign against terrorism by convincing the remaining members of the (ASG) terror groups to surrender," Gobway said.
Balatong, of Al-Barka II municipality, is a follower of Abdullah Indanan, while Munib of Tipo-Tipo town is under the group of ASG leader Furuji Indama.
Gobway said Balatong and Munib surrendered and turned over an M16 rifle and a .45-caliber pistol Monday afternoon to troopers of the Army's 68th Infantry Battalion in Barangay Campo Uno, Lamitan City, Basilan.
He said field commanders Dan Asnawi of the MILF's 114th Base Command, together with his deputy, Rajan Abdurahman; Maaruf of MILF-Bakisong; and Hadji Samad of the Coordinating Committee on the Cessation of Hostilities (CCCH)-Basilan, in coordination with the 68IB, facilitated the surrender of the two ASG members.
Meanwhile, Maj. Gen. Alfredo Rosario Jr., commander of the Western Mindanao Command (Westmincom), expressed his appreciation to the peace-inclined MILF for their unwavering support to the peace campaign of the command.
"I am personally elated with the commitment of the MILF to support us in our quest for lasting peace and sustainable development here in Mindanao," Rosario said.
He urged the remaining ASG members in Basilan to come out and return to mainstream society.
"It's time to end your armed struggle and transform Basilan into a peaceful and progressive province," he added. (PNA)