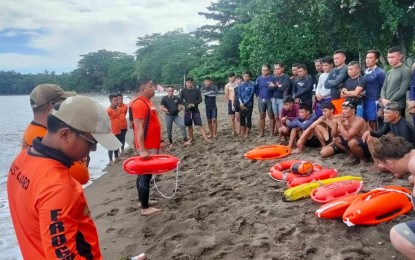 DUMAGUETE CITY – The Philippine Coast Guard (PCG) in Negros Oriental has urged local government units (LGUs) to allocate a budget for water search-and-rescue (WASAR) training in their localities as more tourists arrive in the province.
Lt. Junior Grade Mark Tolentino, Coast Guard Negros Oriental station commander, told the Philippine News Agency on Tuesday that while part of their mission is to save lives at sea, they also have other tasks and functions such as maritime safety, maritime law enforcement, maritime security, and marine environmental protection.
Having WASAR-trained personnel in each locality would be a big help to the PCG as they can act as first responders during emergencies, he said.
Tolentino said they are willing to undertake the training but a letter request is needed.
"So far, we have not received any requests yet but we are visiting the different towns and cities to inform them of our availability to conduct the training," Tolentino said.
He said there were previous requests from the congressional districts in Negros Oriental sometime last year but this was addressed to the PCG national headquarters.
"I don't know why it has not materialized yet but hopefully this will come to fruition," he said in mixed English and Cebuano.
Tolentino said it would be a good idea if LGUs were to agree on a joint training that would cater to bigger participation but with combined budgets for food, accommodation, and other requirements.
The Coast Guard commander highlighted the need for the WASAR and lifeguard training considering that Negros Oriental is famous for its beaches and the influx of travelers to the province is increasing after its borders were opened.
Meanwhile, 41 lifeguards from different resorts in Dauin and Zamboanguita have completed a four-day training by the Coast Guard's Maritime Safety Support Unit as requested by the Negros Oriental Diver's Association.
The training, held July 4-8 at a resort in Dauin town, aims to provide the lifeguards with basic life-saving skills to ensure the safety of in-house guests and other tourists.
This is the first batch of lifeguards in the entire Central Visayas region to be certified by the Coast Guard, Tolentino said.
"I told the graduates that they should not limit their responsibilities at their respective workplaces such as resorts but to also help in other emergencies where their skills are needed," he said.