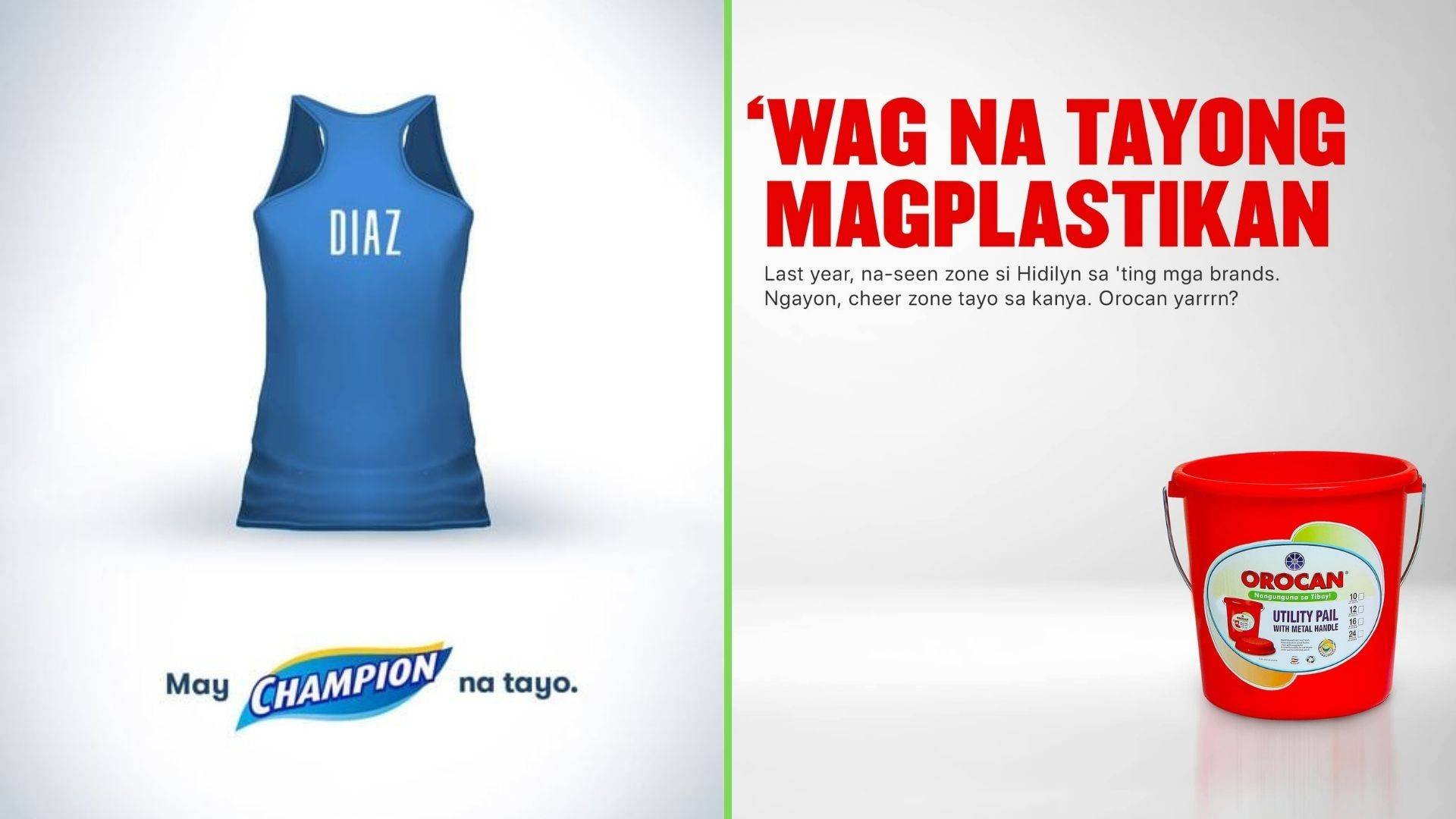 Photo credit: Champion Detergent Bar and Powder/Facebook, Orocan/Facebook
By Jerald Uy
Where do companies draw the line between celebrating Hidilyn Diaz's Olympic win and using it just for promotional purposes?
It's one thought that could come out from a viral post collecting all recently published congratulatory art cards on the Olympian's historic feat. ICYMI, digital specialist Martin Cervantes collated all the brands that were quick to applaud the weightlifter on various social media platforms. Among the brands he said that stood out for their visuals and message were Pure Gold, Tokyo Tokyo, Smart, Netflix, Dunkin Donuts, Champion Detergent, and Mega Sardines.
READ: Moment marketing: How brands capitalize on Hidilyn Diaz's Olympic feat
Within a few hours, however, plastic household items manufacturer Orocan also rode the bandwagon to deliver its congratulations with a rather biting message. "Wag na tayong magplastikan. Last year, na-seen zone si Hidilyn sa 'ting mga brands. Ngayon, cheer zone tayo sa kanya. Orocan yarrn?" it wrote on its now-viral art card, with an image of its signature pail product.
The brand, known for its other humorous, almost always viral ads, obviously used a euphemism ("plastik") to refer to other brands that only supported Diaz after her win.
Orocan's post has since garnered more than 160,000 reactions, 8,000 comments, and 66,000 shares. Ironically, for something that supposedly calls out brands jumping on the bandwagon, the post also served Orocan's own promotional interests.
READ: This dog can lift! See a cute weightlifting tribute for Hidilyn Diaz
Cervantes, in his post, could only echo Orocan's sentiments. "The creativity of Filipinos (has) a lot of potential, but all in all, maybe it would be better if brands partially invested in our athletes that need all the support they can get, and not just when they win but take part in their respective journeys."
"This is so that should more victories come in the near future, there is a genuine take on support that comes full circle," he added.
To begin with, brands might be on a slippery slope when using Diaz's Olympics photo to sell products, with some even adding promo codes.
But if Diaz or the International Olympic Committee isn't complaining, we guess there's no case to begin with.
Do you think it's ethical, though? Let us know your thoughts!
ALSO READ: Hidilyn Diaz most mentioned athlete on Facebook after historic win