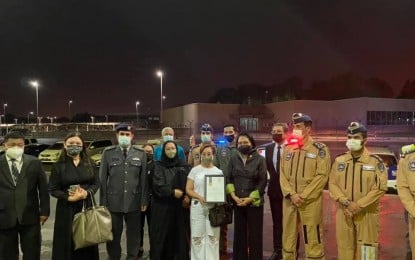 MANILA – The remains of Joel Que Sacramento, a Filipino nurse who died in a helicopter ambulance crash while in the line of duty in the United Arab Emirates have been repatriated, the Philippine Embassy in Abu Dhabi said Wednesday.
Sacramento, 39, was one of the four who perished on October 2 when the helicopter they were riding crashed in Al Wathba while en route to rescuing victims of a road accident.
During the send-off of his remains on October 12, Ambassador Hjayceelyn Quintana condoled with his relatives and friends while his casket was being wheeled off to the waiting Etihad cargo flight bound for Manila.
Officials of Abu Dhabi Police also spoke highly of Sacramento, the Embassy noted.
The Abu Dhabi Police, in coordination with the Embassy and Philippine Overseas Labor Office, extended full assistance in the repatriation of Sacramento's remains to Zamboanga where his family resides.
The three others who died in the crash were Lieutenant Pilot Khamis Saeed Al Houli, Lieutenant Pilot Nasser Muhammad Al-Rashidi, and civilian doctor Shahid Farouk Ghulam. (PNA)