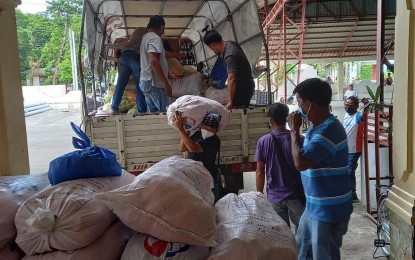 LAOAG CITY – Over the past two weeks, several residents in a coastal barangay of Davila in Pasuquin, Ilocos Norte have been living day by day, filled with blessings.
Davila village chief Elviro Agoo said they can not thank enough the generous donors -- both from private and public institutions, who have provided for their needs during the 14-day localized lockdown.
On June 19, Pasuquin town Mayor Ferdinand D. Aguinado placed Sitio 1A Diriqui under hard lockdown as five of its residents were infected with the coronavirus disease 2019 (Covid-19).
To contain local transmission of the virus, residents in the entire sitio (sub-village) were restrained to go out from their residences except when obtaining essentials or for emergency cases.
For those who have enough to sustain their family needs, living on a two-week lockdown could just be passing time, but not for the other households.
According to Agoo, most of the compromised residents are dependent on fishing as a major source of livelihood. Some are fish vendors along the highway who rely on a daily income.
Fortunately, the spirit of "bayanihan" still lives among a community of Ilocanos here and abroad. Like in Davila village, Agoo reported Tuesday that hundreds of food packs and other household essentials including cash came in handy during the lockdown period.
"This is who we are. In sickness and in health, we are one," said Agoo as he reported the Covid-19 infection in the locality is now under control.
Even after the lockdown is over some 235 Diriqui residents who belong to the poorest of the poor received food packs courtesy of the Ilocos Norte government.
These items are among the latest to arrive as the food delivery team of the provincial government has been going around the different lockdown areas of the province.
With the continuing spike of Covid-19 cases in areas where most people gather, Governor Matthew Joseph Manotoc reiterated on Tuesday that any mass gatherings or events are strongly discouraged at the moment.
"Let's all continue to wear airtight masks, distance as much as possible, stay outdoors when leaving the house, and when indoors, open doors and windows for ventilation. By doing these, each of us contributes to the safety of our constituents," said Manotoc in a statement, as he assured things will get better if each one will do his/her part to arrest the spread of the virus.
To date, Ilocos Norte has logged a total of 4,052 cases since the pandemic began last year, of which 839 are active cases. (PNA)