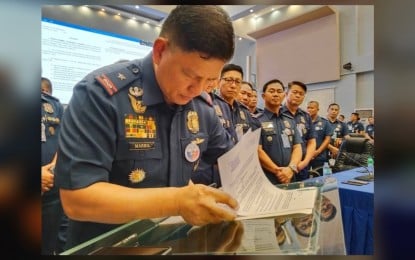 TACLOBAN CITY – A total of 21 key officials of the Philippine National Police (PNP) in Eastern Visayas have submitted their courtesy resignations as part of cleansing the ranks amid allegations of illegal drugs involvement.
PNP Eastern Visayas Regional Director Rommel Francisco Marbil said in a press briefing on Tuesday he led the submission of courtesy resignation on Jan. 5, heeding the call of Department of the Interior and Local Government Secretary Benhur Abalos Jr.
The 21 third-level officers of the police regional office include two Brigadier Generals and 19 Colonels holding key posts at the regional office, group commanders, provincial directors and city directors.
"This is a great challenge for the uniformed service and an opportunity to speed up the internal cleansing process within our ranks. I believe that we will emerge as a stronger organization and we will win back the trust and confidence of the people," Marbil said.
Those who submitted their courtesy resignations will be subject to evaluation by a five-man committee at the central office.
Marbil said those who tendered resignations will remain in their current posts until proven by the committee that they are engaged in illegal drugs.
"This is to give way to the committee to investigate us. We must face the committee and defend ourselves. We will exercise our rights and be given the chance to appeal to the decision of the committee," he told reporters.
"With the mechanism in place, this is a time for us to cleanse our ranks. We do not allow any policeman to be involved in illegal drugs," he added.
During the press briefing, Marbil signed an affidavit, saying he is not involved in any form of illegal drug activity or any illegal and criminal activity and not receiving any money or benefit from illegal drug personalities or persons involved in illegal activities, among others.
He urged all police officers holding second-level positions to submit courtesy recognitions since they are the future key officials of the PNP.
The region has 10,535 police officers assigned at the regional office and six provinces.
Meanwhile, a total of 2,552 policemen in Eastern Visayas got promoted and had their simultaneous mass oath-taking, donning and pinning of ranks at the police regional office gym.
The 2,552 personnel applied for the second-level uniformed personnel regular promotion program for the year 2022.
Out of the 2,552, at least 2,449 are organic personnel of the police regional office composed of 161 police commissioned officers (PCOs) and 2,288 police non-commissioned officers (PNCOs).
From the national support units inside the PNP Regional Headquarters, 68 were promoted, consisting of nine PCOs and 59 PNCOs, while 35 got promoted from those outside RHQ composed of five PCOs and 30 PNCOs. (PNA)