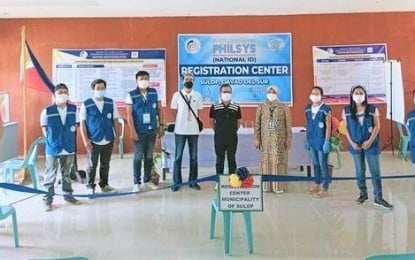 DAVAO CITY – Registration for the Philippine Identification System (PhilSys) started in Sulop, Davao del Sur on Aug. 23, 2021.
The municipality of Sulop, in coordination with the Philippine Statistics Authority (PSA), launched its PhilSys registration center at the Municipal Engineering Office building in Purok 6, Poblacion on Aug. 21 and began accepting applicants two days later.
"Philippine Identification System applicants are advised to go to the registration center strictly on the scheduled dates written on their appointment slips. Updates for the schedule of your registration will be provided to you," the third-class municipality posted on Facebook.
As of Aug. 16, a total of 1,048,255 Philippine Identification cards have been delivered nationwide in partnership with the Philippine Postal Corporation.
Official printing partner Bangko Sentral ng Pilipinas has also released 3,036,747 more for delivery.
Signed into law by President Rodrigo R. Duterte in August 2018, Republic Act 11055, or the Philippine Identification System Act, aims to establish a single national ID for all Filipinos and resident aliens.
The national ID shall be a valid proof of identity that shall be a means of simplifying public and private transactions, enrollment in schools, and the opening of bank accounts.
It also seeks to boost efficiency, especially in dealing with government services where people will only need to present one ID during transactions. (PNA)