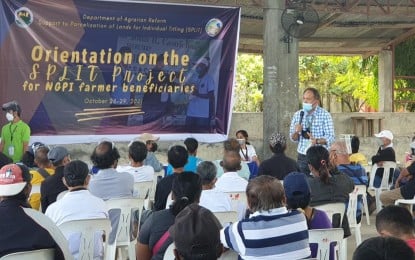 BUTUAN CITY – The Department of Agrarian Reform in Agusan del Sur (DAR-ADS) has started a four-day orientation on the Support to Parcelization of Lands for Individual Titling (SPLIT) Project to agrarian reform beneficiaries (ARBs) who own a collective Certificate of Land Ownership Award (CLOA) covering around 3,000-hectare land in the area.
In an interview on Wednesday, DAR-ADS Provincial Agrarian Reform Officer II Jamil Amatonding Jr. said the orientation started on Tuesday and will run until Oct. 29 in San Francisco, Agusan del Sur.
The project, which is one of the DAR's major ventures being implemented nationwide, aims to improve the security of tenure and strengthen the property rights of ARBs through the subdivision of CLOAs previously issued collectively by the agency.
"In Agusan del Sur, we are now focusing on large collective CLOAs. We are now on the stage of providing our ARBs with information on the SPLIT Project and how it will benefit them as beneficiaries of the government's agrarian reform program," Amatonding said.
He said some 1,143 ARBs who are owners of the collective CLOA of 3,000 hectares attended the orientation.
"This 3,000-hectare land in one CLOA and owned by the 1,143 ARBs who formed themselves into a cooperative was leased to National Development Corporation-Guthrie Plantation Inc. or NGPI sometime in 1988. The land, situated in parts of San Francisco and Rosario towns, is planted with palm oil," Amatonding said.
In 2016, he said the NGPI returned the land to the ARBs due to internal conflict within the cooperative.
The 1,143 ARBs are now split into three cooperatives, he added.
"We will continue to hold the series of orientation activities in the different areas of Agusan del Sur to inform our ARBs about the project and its benefits," Amatonding said.
He hoped that DAR-Agusan del Sur, after the series of orientation activities, will be able to start the field validation activities, a requisite for the conduct of the delineation of the collective CLOAs.
The SPLIT Project, throughout its four-year implementation, will cover around 54,000 hectares with 3,174 collective CLOAs that will benefit some 25,000 ARBs in Agusan del Sur, Amatonding said.
Around 103,586 hectares of lands previously issued with collective CLOAs by the DAR will be covered under the project in the entire Caraga Region starting this year. (PNA)