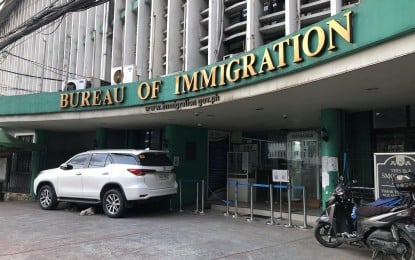 MANILA – Bureau of Immigration (BI) officers at the international airports in Manila and Cebu intercepted two foreign fugitives who were barred from entering the country for being undesirable aliens.
In a statement Thursday, Commissioner Norman Tansingco identified them as German national Reiner Reinhold Heber, 63; and a Chinese woman named Chen Qiaolin, 30.
He added that both were excluded and booked on the first available flight to their port of origin.
They were later placed on the immigration blacklist which perpetually bans them from entering the country.
The BI reported that Heber was intercepted at the Mactan-Cebu International Airport upon his arrival on Jan. 3 via a China Airlines flight from Taipei.
He is an alleged recidivist and violent offender who was sentenced to nine years imprisonment and attempted homicide.
Meanwhile, Chen was denied entry upon arriving at the Ninoy Aquino International Airport (NAIA) aboard a Philippine Airlines flight from Kuala Lumpur on Jan. 2.
Her name is reportedly registered in the International Criminal Police Organization (Interpol) database, prompting BI-NAIA officials to exclude and send her back to Malaysia.
Information from Interpol's national central bureau in Manila showed that Chen is wanted in China for human trafficking.
The public security bureau of Feixi country in Anhui province, China alleged that Chen is also engaged in telecommunications fraud and illegal online gambling activities.
She was also charged with forging the travel documents of trafficking victims who were able to illegally enter Malaysia, Cambodia and other countries.
"We believe that she might be part of an illegal human trafficking syndicate deploying Chinese workers illegally to other Asian countries. Hence her presence in the country poses a threat to Filipinos," Tansingco said. (PNA)