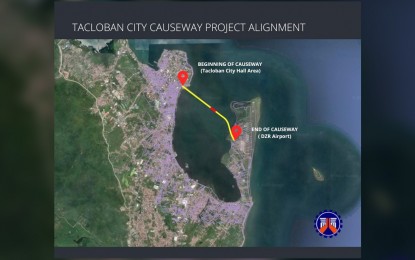 TACLOBAN CITY – The city government here said the construction of a causeway to connect the City Hall complex to the airport would decongest traffic along the major thoroughfare here.
City Administrator Jojo Lacanilao said in a text message on Friday that not only the city's residents would benefit from the project, but even the neighboring areas.
"This has been in the works in a while. The causeway will ease up traffic in many roads between the airport and Tacloban City downtown area. It will cut travel time by more than half," Lacanilao said.
He added that this project would complement the ongoing Tacloban Airport development project, which would get PHP1.42 billion in 2023.
"This will be good for tourism and investment in the city. Overall, this major infrastructure project is expected to contribute to the progress not only of the city but also to the nearby municipalities," he added.
Recently, the Department of Public Works and Highways (DPWH) announced the start of construction this year of a PHP3.46 billion causeway that would connect the City Hall to the airport.
The causeway will cross Cancabato Bay starting at the City Hall complex in Magsaysay Boulevard up to the Kataisan point of the Tacloban Airport in the city's San Jose District.
For 2022, the project has an allocation of PHP990 million, involving the construction of a 586-meter stretch of the causeway. The rest of the project's funding will be included in future appropriations.
This project involves the construction of a four-lane road embankment that spans approximately up to 2.55-meters in length with a bridge that stretches to 180 meters.
It will also feature separate bike lanes, concrete canals, sidewalks, as well as wave deflectors on both sides. (PNA)