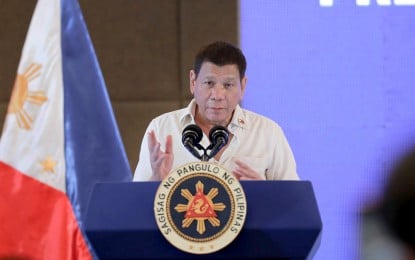 MANILA – President Rodrigo Duterte on Thursday emphasized the vital role of infrastructure development in the full reopening of the Philippine economy amid the prevailing coronavirus disease 2019 (Covid-19) pandemic.
In a speech delivered in Lucena, Quezon, Duterte said pursuing more infrastructure projects in the countryside would lead to inclusive growth.
He added that greater productivity and progress can be achieved through improved mobility, including efficient access to goods and services.
"As we continue to overcome the current pandemic and carefully reopen our national and local economies, infrastructure development will play a vital role in our success," he said during the opening and inauguration of Sariaya Bypass Road.
Duterte also lauded the Department of Public Works and Highways and its project partners for the completion of the Sariaya Bypass Road, a 7.42 kilometer road project that starts at the Manila South Road Daang Maharlika Road and ends at the Quezon Eco-tourism Road.
Duterte said the road widening project is "another milestone" in his administration's ambitious "Build, Build, Build" infrastructure program.
"This achievement affirms the administration's strong commitment to improve the quality of life of Filipinos by pursuing strategic infrastructure projects across the country, thereby improving connectivity, increasing the people's mobility, and creating jobs, and dispersing economic activity throughout the regions," he said.
Duterte expressed confidence that the Sariaya Bypass Road would spur the growth of industries and business opportunities in the Quezon province.
"It will not only provide faster and safer travel for motorists but also [allow] efficient transport of goods to and from the markets [in] Southern Luzon. This new bypass road is also expected to lessen the traffic volume along Daang Maharlika from Sariaya to Lucena by 40 percent," he said.
Duterte also hoped that the public would help the government in achieving its sustainable development goals and building a "brighter future that is brimming with opportunities for all."
The Sariaya Bypass Road is expected to cater around 15,000 motorists and commuters daily going to different provinces in the Southern Tagalong region.
It is also expected to boost economic and social development by providing transport efficiency, road safety, and expansion of existing business opportunities in the whole of Quezon province. (PNA)