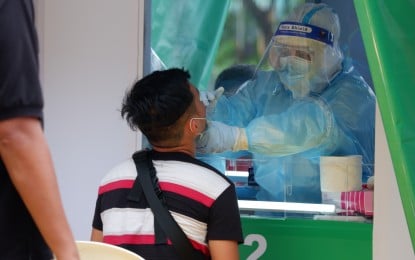 MANILA – The average daily number of coronavirus disease (Covid-19) cases in Quezon City slightly dropped as it continues to improve its pandemic response amid a surge in infections across the country.
"The reproduction number (Rt) in NCR decreased to 1.43 (as of 08.31.21) from 1.56 the previous week. Rt was actually lower in Quezon City (from 1.47 to 1.27) and in City of Manila (from 1.49 to 1.33)," OCTA Research fellow Prof. Guido David said in a tweet on Wednesday.
David said the city's average number of new cases per day from August 24 to 30 is 694, which is lower than the 727 cases from August 17 to 23.
The latest OCTA Research report also showed that Quezon City ranks 16th among the cities in the National Capital Region (NCR) in terms of average daily attack rate (ADAR) for the week of August 24 to 30.
The city government also noted that report of the OCTA Research showed that the daily attack rate is now at 21.79 from the previous 22.83.
Meanwhile, the city's positivity rate increased from 24 percent to 25 percent.
"While it may take maybe two more weeks based on our projections for cases to decrease, as long as big cities like Quezon City continue to have lower growth rates or a decline, we can overcome this surge," David said.
Mayor Joy Belmonte said in managing the growth in the number of Covid-19 cases, the city continues to apply tried and tested strategies that include increased tracing and testing, immediate isolation, and granular lockdowns.
"Following the report of the Department of Health that we have recorded more than 22,000 cases in a day nationwide, this analysis of our numbers helps us see that our efforts are working. We have managed to improve our Covid-19 responses over time and now we are seeing developments in managing surges," Belmonte said.
As of August 31, the city has a total of 131,681 Covid-19 cases, with 120,809 recoveries, 9,537 active cases, and 1,335 deaths.
As of August 30, the occupancy rate of QC's 12 Hope Isolation Facilities is at 75 percent.
"We remind our QCitizens to continue following minimum health standards and to immediately get themselves vaccinated. The city will continue to expand its vaccination program to achieve full population protection as soon as possible," Belmonte said. (PNA)