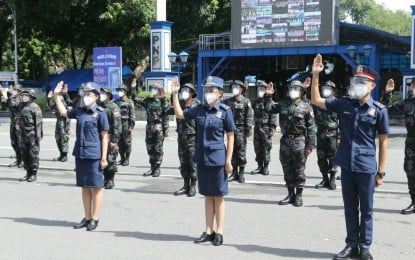 MANILA – The Philippine National Police (PNP) on Wednesday welcomed the National Police Commission's (Napolcom) approval of the promotion of some 27,000 police officers to the rank of Police Corporal up to Police Lieutenant Colonel under the organization's promotion program.
"The PNP is truly grateful to the Napolcom for its approval of the promotion of some 27,000 of our police personnel, who I am sure are elated by this opportunity and prospect for career advancement. This will serve as an inspiration for our police personnel to perform at their best," said PNP chief, Gen. Guillermo Eleazar, in a statement.
Eleazar said he has already tasked different PNP offices to start the process with the observance of the appropriate guidelines on promotion.
"As chief of the police force, I guarantee that the PNP Promotion Board, together with the PNP Directorate for Personnel and Records Management and other concerned units, will ensure transparency and fairness and will strictly observe the guidelines in the promotion process. This promotion is very important for the career development of every police officer in the organization. This will also develop the efficiency of the entire team PNP in performing its mandate and not just in their individual capacity as PNP personnel," he said.
On Tuesday, the Napolcom announced that its en banc approved Resolution No. 2021-1218, which grants the PNP chief the authority to fill up a total of 27,460 promotional vacancies in the second level ranks to facilitate the ascending career movement of police personnel.
The move also aims to prevent further congestion in the patrolman and patrolwoman ranks.
The Napolcom has allowed the PNP to fill 1,000 promotional slots for Police Lieutenant Colonel (PLTCOL); 720 for Police Major (PMAJ); 980 for Police Captain (PCPT); 320 for Police Lieutenant (PLT); 2,780 for Police Executive Master Sergeant (PEMS); 4,140 for Police Chief Master Sergeant (PCMS); 5,980 for Police Senior Master Sergeant (PSMS); 5,570 for Police Master Sergeant (PMSg); 2,640 for Police Staff Sergeant (PSSg); and 3,330 for Police Corporal (PCpl). (PNA)