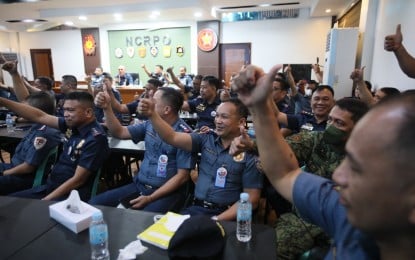 MANILA – Retired and active members of the Philippine National Police Academy Alumni Association, Inc. (PNPAAAI) rallied behind Department of the Interior and Local Government (DILG) Secretary Benjamin Abalos Jr.'s call for the courtesy resignation of ranking police officials and intensified internal cleansing among the ranks.
In a statement Thursday, the group said the move is necessary to eradicate misfits from the police force.
"The PNPAAAI recognizes the need (for) this draconian measure and conveys its confidence to the PNP leadership in the processes it will adopt to weed out only the undesirable police scalawags," it said.
It also expressed hope that these measures would provide a sustainable solution in ending the illegal drug problem and strengthen the PNP as an institution.
"May the hierarchy of the PNP regard the supremacy of our laws, human rights, and the tenets of Service, Honor, and Justice in resolving this latest internal controversy unfolding within the police agency. With this, the PNPAAAI assures that, as our country faces another challenging phase in our fight against criminality and illegal drugs, its members remain committed to our sworn duty to God, Country, and the Filipino people," it added.
PNP chief Gen. Rodolfo Azurin Jr., meanwhile, thanked the group for its support.
"The support of the PNPA Alumni Association is a testament to the importance of this internal cleansing effort and the necessity of holding accountable those who have tainted the reputation of the PNP," he said.
Azurin said the PNP remains committed to restoring the public's trust in the institution and will continue to implement measures to ensure that only the most exemplary and trustworthy members would remain in the service.
Boost community service
During his visit to the Police Regional Office in Soccsksargen Region (PRO-12) on Tuesday, Azurin called on police officers to strengthen the delivery of service to communities.
He also stressed that police personnel should remain disciplined and respectful in enforcing the law and delivering public service.
"PNP's efficiency, competency and proficiency are mirrored through the actions of our personnel. Thus, every member of the PNP should avoid illegal activities that will put a stain on the credibility of the organization," Azurin said. (PNA)