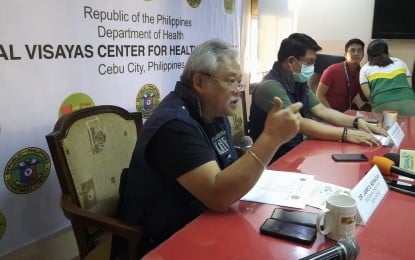 CEBU CITY – The Department of Health in Central Visayas (DOH-7) has seen an improvement in the healthcare response efforts of public and private hospitals amid the spike in coronavirus disease 2019 (Covid-19) cases, its regional director said on Thursday.
"We have seen some relief in the past three days. A sigh of relief because we have a decline in the number of utilization of our hospital beds," said Dr. Jaime Bernadas in a press briefing.
He said Cebu, which became the center of the Covid-19 spike in the region, was in crisis in the past three weeks when hospitals, both public and private, were overwhelmed with suspected Covid-19 patients and those who suffered respiratory illnesses.
Many netizens posted photos of vehicles lining up outside hospitals waiting either to be swabbed for reverse transcription-polymerase chain reaction (RC-PCR) test or for confinement due to shortness of breath, cough, fever, and other symptoms of coronavirus.
Some of them were shown with oxygen tanks beside every vehicle.
Bernadas said the critical care utilization rate (CCUR) or occupancy in intensive care units (ICU) beds, ward beds, and isolation beds for Covid-19 patients reached 90 percent up to full utilization.
He attributed the improvement in the healthcare system to the hospital's commitment to increasing their bed capacity for coronavirus patients.
The DOH-7, he said, has deployed medical front-liners to man those additional Covid-19 beds in private hospitals.
"If you look at the ICU utilization rate right now that is 70 percent, that was as high as 81 to 84 percent before. For ward beds, it's 61 percent, which was 70 to 75 percent before, and 60 percent for our isolation beds that was 80 percent before," he said.
He, however, clarified that such improvement in healthcare system may have yet to reflect the decline in the number of Covid-19 cases but it, at least, showed how the medical care system in the region is responding to the health crisis. (PNA)