MANILA – A health official on Monday said three regions, two in Luzon and one in Mindanao, remain under high-risk classification for the coronavirus despite the country's moderate risk classification.
In an online media forum, Health Undersecretary Maria Rosario Vergeire said a negative two-week growth rate at -33 percent and a high-risk daily attack rate at 11.43 cases for every 100,000 individuals had been recorded, down from 17.10 in the previous three to four weeks.
Most regions are showing negative growth rate including the National Capital Region (NCR), Region 4-A and Region 3.
"However, majority remain with a high-risk average daily attack rates. We are flagging CAR, Regions 2 and 9 with high-risk classification based on its positive moderate-risk two-week growth rate, and a high-risk average daily attack rate," she said.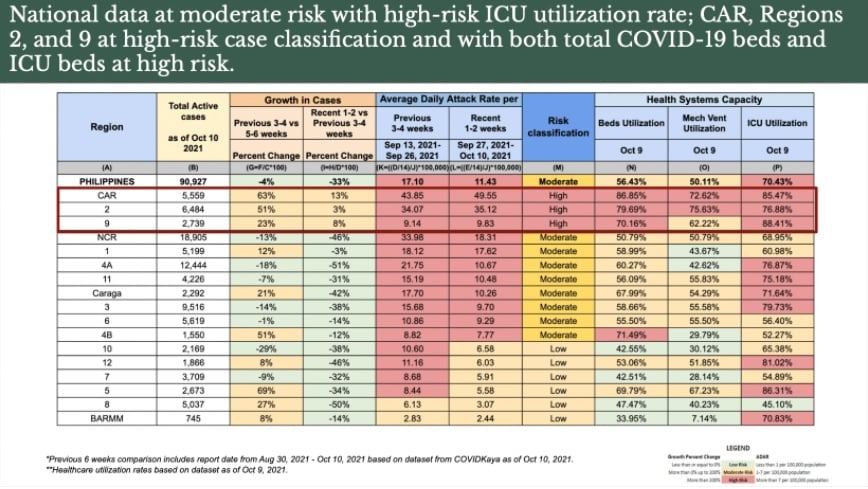 As of October 9, the top five regions with the most number of new cases are the NCR, Region 2, Region 4-A, Cordillera Administrative Region and Region 3.
Meanwhile, the top five areas with the most number of new cases are Isabela, Cavite, Taguig, Quezon City and Laguna.
"We are seeing a decline in cases as we report 10,494 average daily cases in the recent week (October 4 to 10) which is a decrease of 28 percent of 4,195 from the previous week (September 27 to October 3) with 14,689 cases," Vergeire said.
As for Covid-19 deaths, a new peak in the fatalities was observed in mid-August. For that month, the total number of deaths is 5,025 and the average number of deaths per day is 162.
For the period of October 1 to 10, a total of 411 deaths was logged, or an average of 41 deaths per day. (PNA)