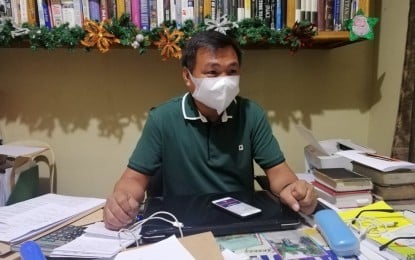 DAVAO CITY – After putting up the tagging system that identifies vaccinated households by placing sticker tags on their doors, Barangay Lasang officials expanded the setup to tricycle and pedicab drivers associations.
In an interview on Monday, Barangay Lasang Chairman Allan Simo-ag said the tagging system aims to provide protection to commuters and not to discriminate the unvaccinated.
"This is not to discriminate. We wanted everybody to be protected from Covid-19. The passengers have the right to choose the drivers who were vaccinated," he told Philippine News Agency (PNA).
Simo-ag added: "If they will not allow unvaccinated drivers to service them, they (drivers) cannot blame them because the commuters also wanted to protect themselves."
He said their village has four tricycle and pedicab associations with a total of 300 driver-members.
"We are done talking to the association presidents and we will start the tagging next week. Out of the 300 drivers, around 50 percent were already vaccinated," he added.
He admitted that the initiative did not sit well with some of the drivers.
"We expected it. Even in our house-to-house tagging system, we received insults and some did entertain us," Simo-ag said, adding that they are unfazed by the negative responses and are only after the general welfare of the general populace.
He said they were able to tag around 2,300 individuals for their house-to-house tagging system.
"If the household is composed of 10 members of the family, we will put stickers based on the numbers of individuals who were already vaccinated," Simo-ag said.
They are targeting 6,500 residents to achieve population protection in the barangay out of the more than 8,000 residents who are eligible to receive the anti-Covid jabs.
He is also optimistic that they will achieve population protection before the end of November. (PNA)