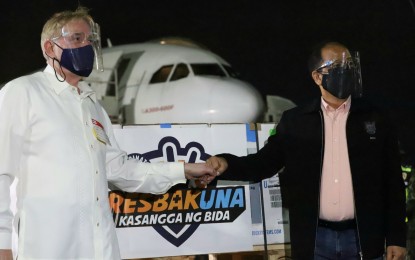 MANILA – The Philippines is expected to receive five million doses of the American-made Pfizer coronavirus disease 2019 (Covid-19) vaccines next month.
"We are expecting that Pfizer will pick up their delivery this coming September, (around) five million (doses are expected to be delivered) and we are thanking the Philippine Embassy and the American government for allowing us to access more than 65 million of these vaccines," National Task Force Against Covid-19 chief implementer and vaccine czar Carlito Galvez, Jr., said in a press briefing at the sidelines of the arrival of some 365,040 Pfizer vaccine doses at the Ninoy Aquino International Airport (NAIA) Terminal 3 on Wednesday night.
This is the fourth shipment of the American-made jabs procured by the government which arrived in the country.
Out of this number, 51,480 doses were already delivered to Cebu while another 51,480 doses are scheduled for delivery to the Davao Region on Thursday.
The bulk of the vaccines arrived at around 8:44 p.m. aboard Air Hong Kong Flight LD 456.
Galvez said the remaining Pfizer vaccines will be deployed to the National Capital Region and will be rolled out to areas that have yet to receive the American-made jabs so they will have experience and training on how to handle it.
"So that in the future once Pfizer picks up their deliveries, they are well aware and already well trained on how to handle the sensitivity of Pfizer," he added.
Galvez also thanked the United States for their "significant" donation of around 6.2 million doses of assorted vaccines, including the 3.2 million doses of the Johnson & Johnson single-shot Covid-19 jab, which allowed the government to vaccinate a significant number of elderly people and those with comorbidities.
US Embassy Charges d' Affaires John Law, who was also present in the event, said they are doing everything they can to bring as many vaccines to the Philippines as fast as they can.
"I know Secretary Galvez and the Filipino officials are doing all they can to ensure that as many people as possible can get vaccinated as quickly as they can because ultimately that's the way to defeat this pandemic," he added.
He said the country is planning to acquire more as the country's order for Sinovac vaccines will soon be completed.
"Yes, we're exploring to buy more, but once na nag-deliver na yung majority ng Pfizer at saka Moderna, (once majority of the Pfizer and Moderna doses are delivered), we might be concentrating on these major brands," he added.
The Philippines has an order of around 26 million Sinovac doses, of which 21.5 million doses have been delivered so far.
Asked about the vaccination update for the National Capital Region, Galvez said around 43 percent of the target population have been given their full dose and 62 to 63 percent with their first dose.
"Sa ngayon, our data is 42.9 percent na more or less 43 percent na yung ating full dose and we have more or less 62 to 63 percent sa first dose (Our data shows that 42.9 or less than 43 percent have gotten their full dose and we have more or less, 62 to 63 percent who have gotten their first dose)," he added.
A total of 2,116,530 Pfizer doses purchased by the government have so far been delivered as part of the 40 million doses the country has secured from the American pharmaceutical firm.
The national government has also received a total of 2,472,210 donated Pfizer doses coming from the COVAX facility.