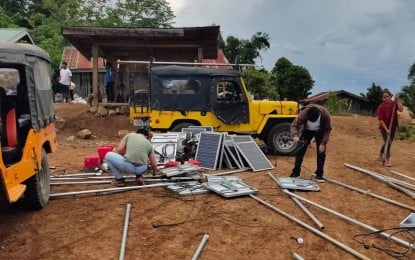 KIDAPAWAN CITY – North Cotabato's power provider Cotabato Electric Cooperative (Cotelco) Incorporated has partnered with the Department of Energy (DoE) and the National Electrification Administration (NEA) for the intensification of its renewable energy project by distributing some 6,000 solar home system (SHS) units in off-grid communities of the province.
Cotelco kicked off Tuesday the initial distribution of 1,063 SHS units funded under the NEA's General Appropriations Act to identified households in M'lang and Tulunan municipalities.
Godofredo Homez, Cotelco general manager, said Wednesday the project aims to energize far-flung villages that have no access to "on-grid" electricity services due to distance and limited cooperative resources.
The SHS package includes a solar panel with an enclosed battery for external universal serial bus (USB) outlets for charging, four bulbs, a rechargeable flashlight, and a portable radio set.
"This will only serve as a temporary tool for these households for now as we gradually extend our power lines to the hinter most part under our service coverage area," he said.
Bernadeth Pamplona, chairperson of Barangay Lampagang, Tulunan, lauded the initiative following the energizing of some 50 households in their village on Tuesday.
"We are overjoyed with the project as we have been waiting for this for a long time. Now, we have access to this reliable and sustainable solar lighting project," she said.
Homez said the DOE is also set to deliver 1,600 solar units under the Productive Uses of Renewable Energy (PURE) initiative to arrive anytime this year.
He said additional 5,100 SHS units from the agency will also be delivered to Cotelco for the second phase of the Access to Sustainable Energy Project–Photovoltaic Mainstreaming (ASEP-PVM) project throughout the service area of the power firm.
The first phase of the ASEP-PVM was implemented in 2018 that energized 2,500 in the towns of Arakan, Makilala, and President Roxas.
The ASEP-PVM is a project under the DOE subsidized by the European Union and the World Bank.