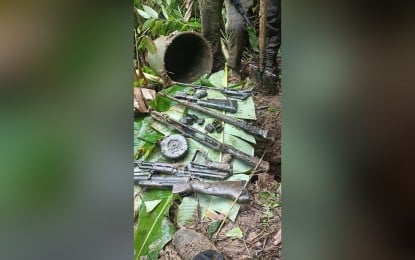 TACLOBAN CITY – The Philippine Army has discovered an arms cache in the outskirts of Mahapalag, Leyte buried for years by members of the New People's Army (NPA) hiding from government forces.
Acting on tips from former rebels and mass supporters, soldiers discovered the four high-powered firearms in the upland Maligaya village on Thursday, according to Philippine Army 802nd Infantry Brigade commander Col. Noel Vestuir on Friday.
Vestuir said the arms cache consist of one AK47 assault rifle, an M16 Armalite rifle, an M1 Garand rifle, a 40mm M79 grenade launcher and assorted magazines belonging to the NPA platoon 1, sub-regional command, Eastern Visayas Regional Party Committee.
"I think the firearms have been buried for about two years. The rebels have been hiding from government forces and they left these firearms since they could not carry it anymore," Vestuir said in a phone interview.
In a statement, Lt. Col. Ernesto Dela Rosa, commander of the Army's 14th Infantry Battalion thanked civilians for reporting the location of buried firearms as a result of an intensified information drive.
"This achievement displays the support of the civilian populace to the Philippine Army as they no longer want the NPA to regain their influence and control in the communities, much more of stock piling food supplies and armaments," Dela Rosa said.
The military has called on the remaining NPA combatants still hiding in the mountains of Leyte Island to come out and return to their families since they are no longer welcomed by the people in the communities.
"You could not hide and evade us forever without food, without the support of the people who you consider as your mass base, and you could not fight us without your firearms," Vestuir added.
The official urged the owners of these recovered firearms to surrender and avail the benefits for former rebels and the Enhanced Comprehensive Local Integration Program being offered by the government. (PNA)