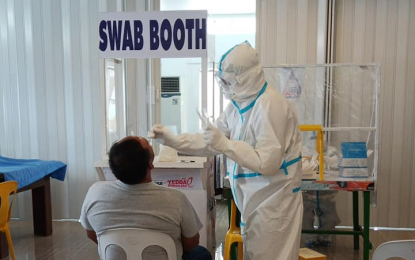 MANILA – The Office of Civil Defense (OCD) Central Office at Camp Aguinaldo, Quezon City will be temporarily closed until August 30 for disinfection after 116 of its 380 employees tested positive for the coronavirus disease 2019 (Covid-19).
"We regret to inform the public that some members of the Civil Defense staff had tested positive for Covid-19 today (Thursday). For this reason, the OCD Central Office will be temporarily closed to undergo disinfection until 30 August 2021," National Disaster Risk Reduction and Management Council (NDRRMC) deputy spokesperson Mark Cashean Timbal said in a media statement.
Timbal said the OCD services will continue through online channels "with our workforce doing work-from-home."
"The 24/7 NDRRMC Operations Center, on the other hand, will continue to provide regular DRRM monitoring and coordination services," he added.
He said 80 percent of the 116 OCD Central Office employees who tested for Covid-19 via reverse transcription-polymerase chain reaction (RT-PCR) are asymptomatic.
"The results were issued today. All our employees who tested positive were immediately brought to a quarantine facility," Timbal said.
He said initial antigen rapid test showed two employees tested positive, prompting OCD to conduct confirmatory RT-PCR test for all its skeletal workforce numbering 114 people on August 24.
Timbal also said majority of OCD Central Office employees have been vaccinated.
He added that the antigen testing is part of their procedures to ensure that 30 percent of their skeletal workforce is protected while doing rotation duties.
"With the announcement of the conduct of RT-PCR, other off-duty personnel (numbering to 104 persons) also requested to be tested bringing the total count of tested personnel to 218," Timbal said.
He said OCD administrator Ricardo Jalad also underwent RT-PCR test, but result has yet to be released.
"We still have 85 people, including (myself), those results are to be issued as of 7 p.m. (Also) we have confirmed 17 people who tested negative," Timbal said.
He added that this is the first time they have such large number of Covid-19 positives among their employees.
Timbal said OCD is now making arrangement for family members of those who found positive to also undergo Covid-19 test.
"We advised all concerned families to do isolation, limit movement, and comply to the MHS (minimum health standards) while waiting," Timbal said.
Timbal said the NDRRMC Operations Center remains open and on service as its staff members did not test positive for Covid-19. (PNA)