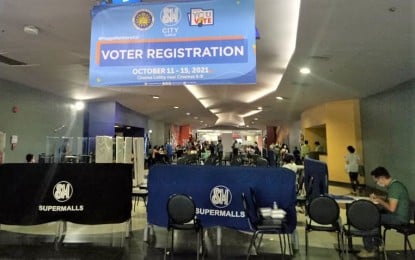 ILOILO CITY – The Commission on Elections (Comelec) noted a lower turnout in the number of applicants as the extension of voters' registration started Monday at a mall satellite center here.
Registration here resumed on September 6 after it was temporarily suspended when stricter quarantine classifications were imposed in May.
Until September 30, over 19,800 have already registered, exceeding the Comelec target of 12,000.
"When compared with the first days during the resumption of voters' registration, the number is lesser. More or less, we can only have 200 to 400 compared during the resumption when there were almost 600," Election Assistant II Jonathan Sayno said in an interview.
Sayno presumed there were only a few unregistered voters left after the September 30 deadline but they still aim to attract about 5,000 more until October 30.
Registrants who are not vaccinated can also avail of the Covid-19 jab right after the registration, or vice versa.
Sayno said they anticipate a large turnout when the deadline nears, hence they opted for bigger venues.
"We appeal to those who have yet to register, if you want to exercise you right of suffrage on May 9, 2022, then please register," he said.
Meanwhile, the Election Registration Board will deliberate on October 18 the applications of registrants who submitted their forms last month.
If there is no opposition, the applicants will be included in the list of permanent voters in the villages where they registered. (PNA)