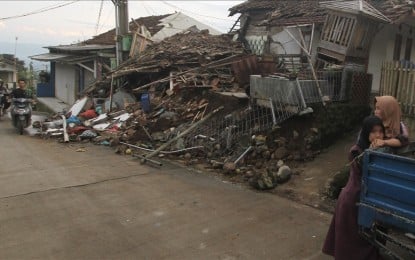 MANILA – President Ferdinand R. Marcos Jr. on Wednesday offered prayers to the victims of a powerful quake that destroyed homes and buildings in Indonesia's West Java province on Monday.
Reports showed that the 5.6-magnitude quake killed at least 268 people, many of them children, with more than a hundred still missing and more than 1,000 injured, according to disaster relief officials.
On his official Twitter account, Marcos extended his condolences to Indonesian President Joko Widodo and Indonesian citizens.
"I express my deepest condolences to President @jokowi for the loss of lives caused by the 5.6 magnitude earthquake that hit Java, Indonesia," Marcos said. "The heartfelt prayers of the Filipino people go out to the families of those lost and affected by this devastation."
During his visit to the town of Cianjur – the epicenter of the quake – on Tuesday, Widodo vowed that the government would prioritize saving people and recovering bodies that are still missing.
He said the government would also focus on rebuilding infrastructure and providing government assistance of up to 50 million rupiahs (USD3,180) to each resident whose house was damaged.
More than 2.5 million people live in Cianjur district.
Marcos met Widodo for the first time on a state visit to Indonesia on September 5.
It was also Marcos' first state visit since assuming the presidency.
He described Indonesian people as not only the Philippines' neighbors or friends but "kin".
Marcos said his decision to choose Indonesia as the first country to visit is significant due to their closeness in geographical location and culture.
Indonesia is prone to earthquakes as it lies on a vulnerable quake-affected area called "the Pacific Ring of Fire". (PNA)